Updated by Corina Alonso
When you have logged into your AudienceReport account, you might want to start creating reports. You can create a new report from the reports tab (on the top, center of the screen), and click 'New' in the upper right corner (blue button). From here we will guide you through setting up a new report. Each step is described below. When you create a new report, your report will be in 'Draft' mode. Once you review and launch the report, it will begin to calculate the report with the chosen setup.
Add reporting items 
The first step is to add reporting items to your report. Reporting items are basically any campaign related data that you have been tracking for your campaign. E.g. It can be campaigns from Facebook, Youtube, or campaigns from your adserver created from one of our integrations.
When adding reporting items, you have two options. You can either add existing items or create a new custom item. 
Selecting to add an existing item, will allow you to pick and choose from the reporting items that are already created on your account.
Selecting to create a custom item, will allow you to create tracking pixels that can be implemented in your campaign. You can learn more about custom items here
In this case, we select to browse through our existing items.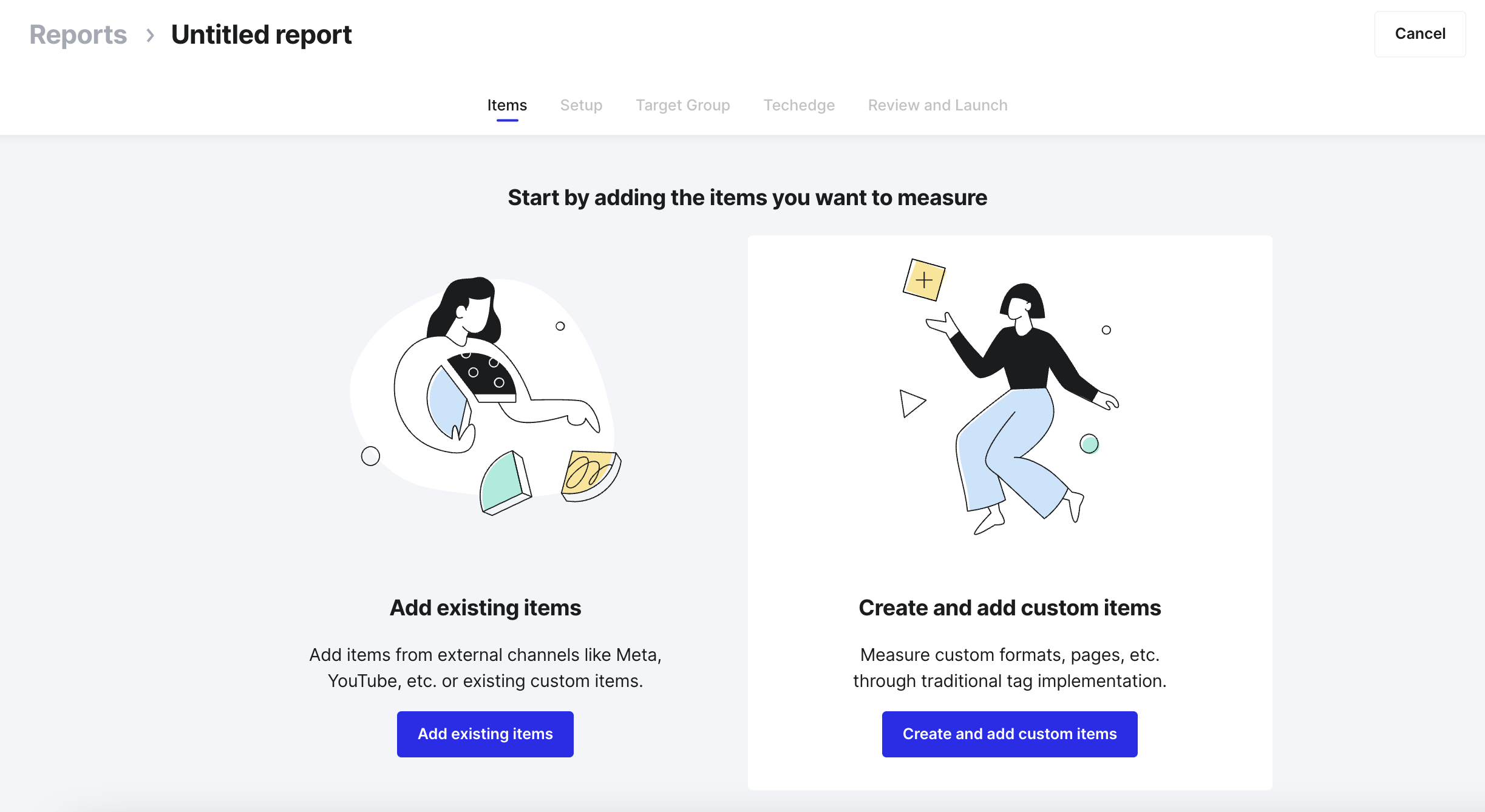 Once you have clicked 'Add existing item' you will have the option to select from your already created items.
From the left hand side, you can use the filter function to easily find the items you are looking for. You can e.g. filter on the source from where your item is coming, a specific channel or creation time.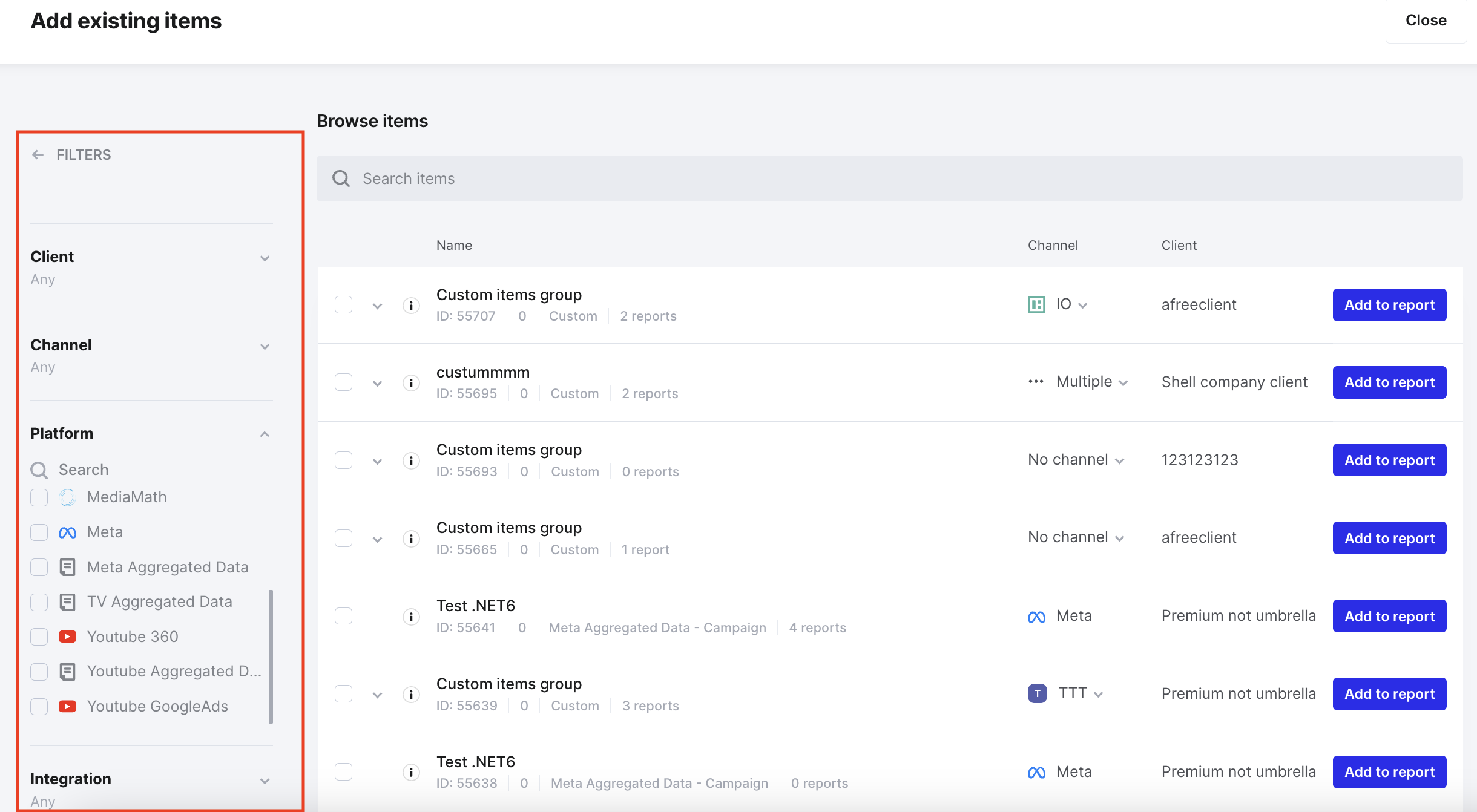 To add an item to your report, simply click 'add to report', on the right side of the individual item. You can select multiple items at once if you want to.
When you have selected all your reporting items, you are ready to configure your report. Click on the upper right corner on "Done", to continue the set up. You will see a list of all selected items, review it and then click "next: Setup" at the bottom right of the screen.
Set-up page 
Next, you need to select a name for your report. We suggest you come up with a naming convention such as 'Client_weekXX-XX_CampaignName.
Furthermore, you also need to decide what to base your measurement on. By default it is based on impressions, meaning every time an advertisement is presented to an audience. If more impression types are present in the campaign, these can be chosen by channel by choosing 'Manually selected event types':

Also, insert the timeframe you would like to report on. Please note that campaigns are measured by weeks on AudienceReport, therefore the minimum reporting time frame is a week. The longest period of time for a campaign is 12 weeks.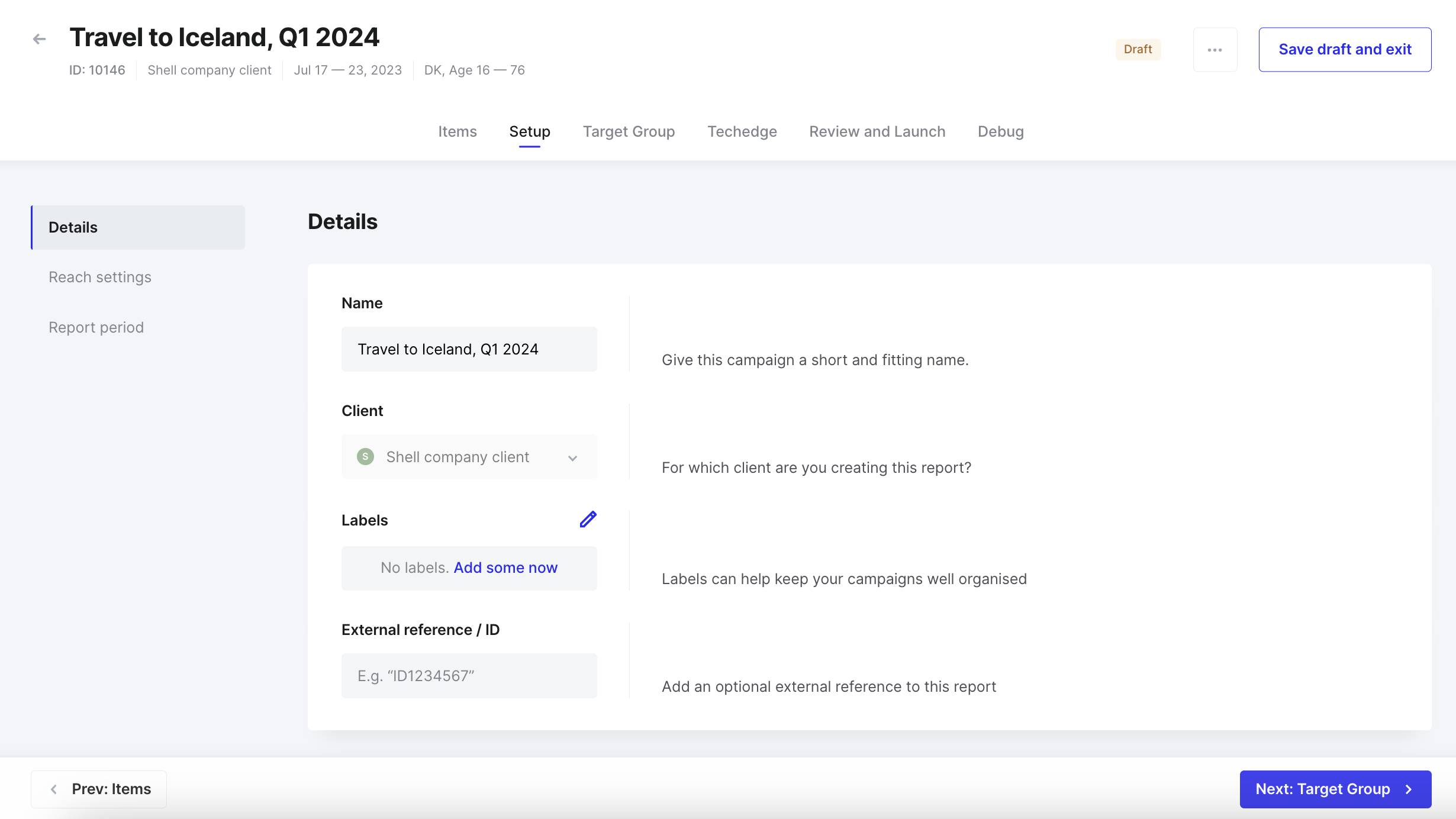 Select your target group
The next step is to define the target group you want to report on. You can select it based on the settings of your campaign. Remember that you can change the target group at any point of time and your report will update accordingly. 
When defining the target group, you need to select the country in which your campaign will run - we can only measure in one country per report. Then define the socio-demographic characteristics of your target group. You will have by default the following 7 different socio-demographic parameters:
Age 
Gender
House hold size 
Income level 
Education level 
Employment status 
Kids in household
Note: if you are measuring a YouTube campaign, you can only select age and gender as your target group characteristics in the report.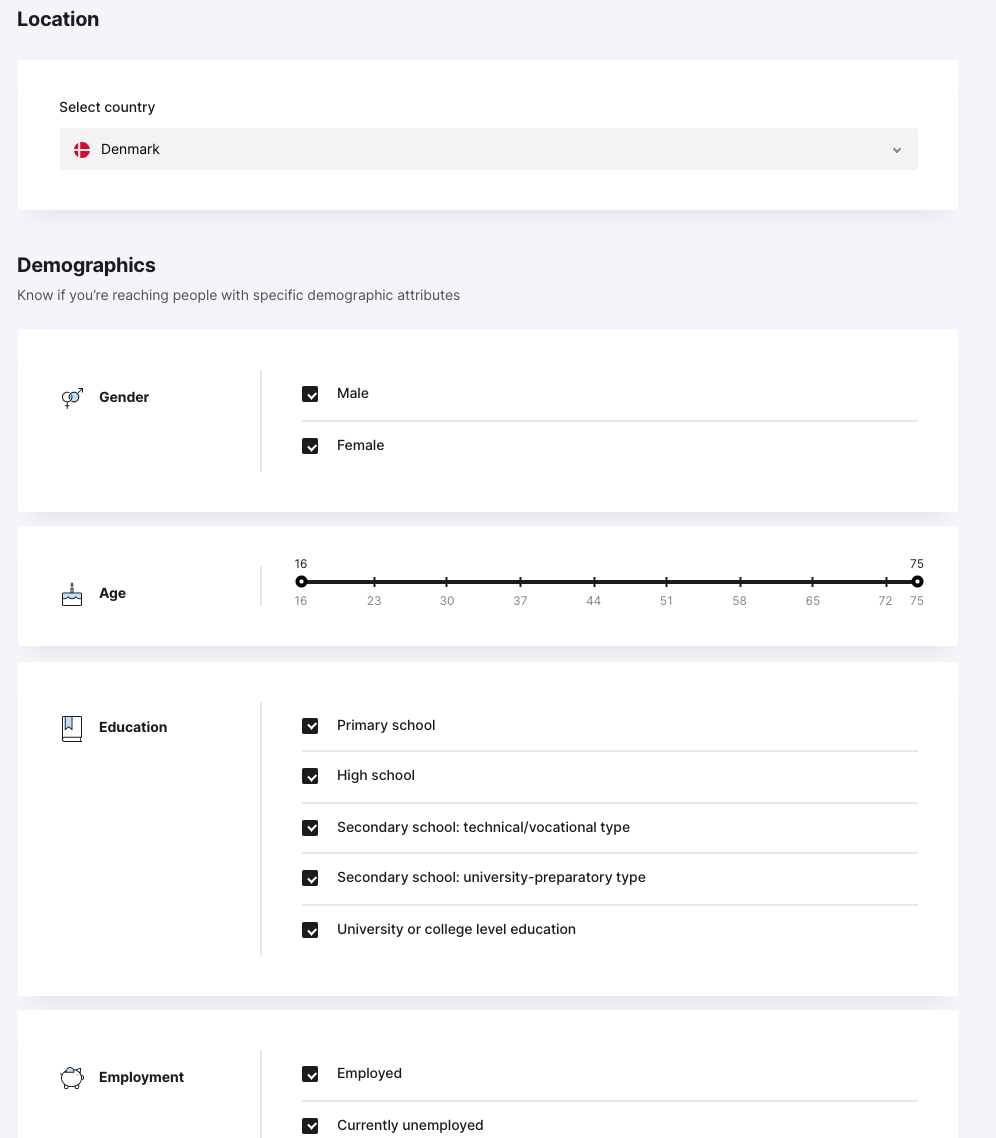 Review and Launch
Once you have chosen the items, report period, target group etc. you need to review that you are satisfied with the configurations you have made. After that, you launch your report and your report will begin calculating.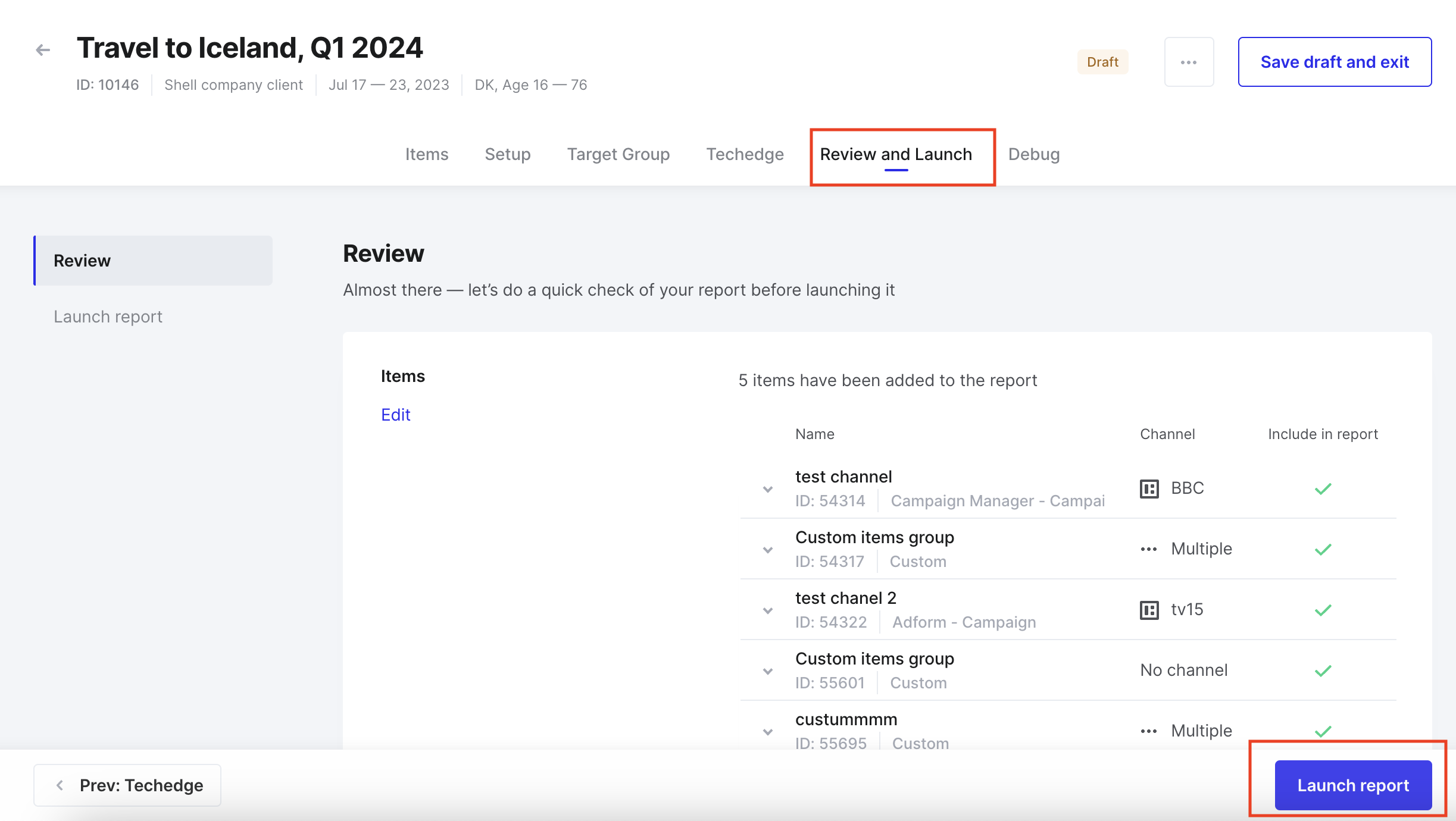 If you still need to add some information, you can save the report as a 'Draft' and come back to it later on - remember that once you are satisfied with the configurations you need to review and launch the report in order to begin calculating the results.

Lastly, if you change any parameters to the setup of the report, the report will automatically begin to recalculate once you click save and you will therefore lose your old settings. We recommend setting up the report and then cloning it if you need several different measurements for the same campaigns. To create a clone follow the instructions in this article.
If you have questions in relation to creating a report, feel free to reach out to us at support@audiencereport.com.