Updated by Corina Alonso
Meta measurement: Third-party audience measurement of Meta campaigns
AudienceProject is an official Meta Business Partner for Measurement, allowing AudienceProject to measure campaigns running across Meta's technologies, including Facebook, Messenger, Instagram, and WhatsApp. Via a direct integration, first-party panel data is matched with Meta campaign data to provide independent audience reach and frequency insights.
Today's media industry is increasingly defined by walled gardens, different ID universes, fragmented media consumption and privacy. This challenges marketers' ability to measure and analyse campaigns holistically via cookie-based measurement.
AudienceProject overcomes this challenge by using three different enablers; direct clean room integrations, advanced technology and robust methodology.
One of the major platforms when it comes to media consumption is Meta. Consequently, the ability to measure campaigns executed on Meta's technologies is crucial to delivering cross-media audience measurement in the digital space. AudienceProject is an official Meta Business Partner for Measurement, allowing us to deliver granular and accurate audience measurement of Meta campaigns via a direct integration.
How it works
The integration between AudienceProject and Meta is based on a data clean room approach. The clean room approach ensures that data is exchanged in a privacy-safe manner and exported from the clean room only at an aggregated level, eliminating any risk of identifying a specific individual in a group. This exchange is performed in a sequence of steps. 
Step 1: Ad exposure information from Meta campaigns is pulled into the clean room.
Step 2: AudienceProject's consented and representative measurement panel is uploaded to the clean room. AudienceProject's direct integration with Meta enables ongoing synchronisation of the panel into the clean room.
Step 3: Campaign data and panel data are matched in the clean room. The matching is done in a fully privacy-safe manner, ensuring that Meta can only access data that AudienceProject has explicitly granted access to and vice versa. 
Step 4: After the joining of the data sets, campaign audience reach and frequency data is exported and displayed in AudienceReport. With the direct integration, AudienceProject has the ability to query raw 1-1 log-line campaign information from the clean room. 
Matching of Meta campaign data and AudienceProject panel data: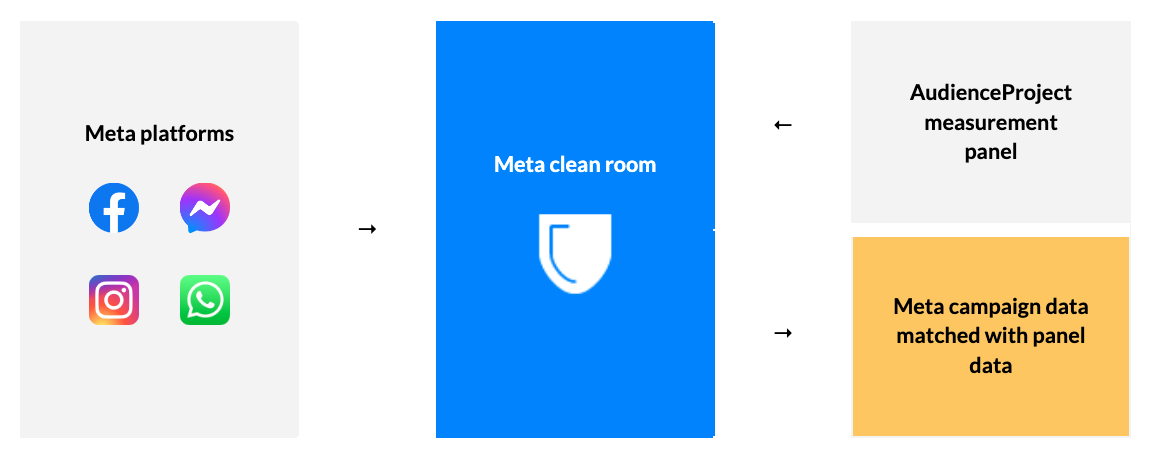 Cross-media campaign measurement example
The integration enables AudienceProject to incorporate the Meta part of campaigns into cross-media campaign measurements as well as deliver third-party validated demographics. Below is an example of a cross-media campaign measurement, reporting the relative and absolute reach generated by Facebook, YouTube, open web and linear TV.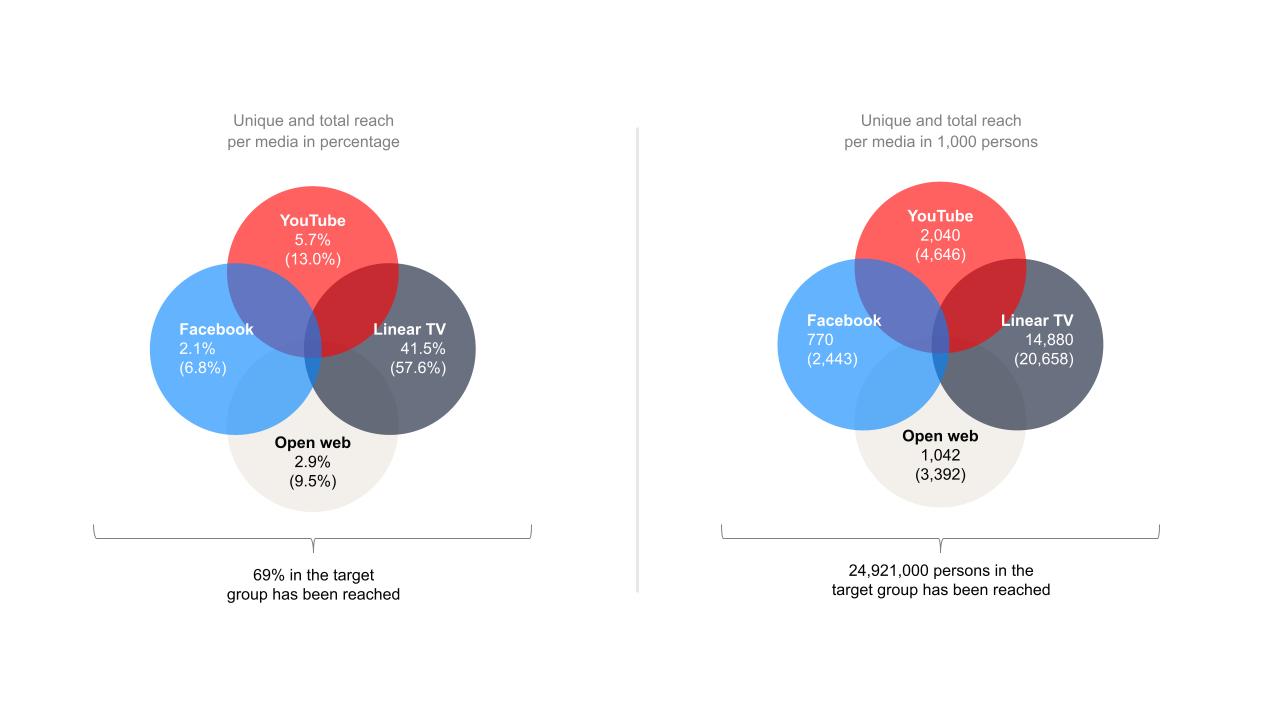 Reporting and benefits
Reporting
Metrics: Reach in target group, frequency, hitrate, on-target percentage and events in target group
Reach building event types: Impressions
Demographics: All demographics (gender, age, income, employment, education, household size, children in household)
Reporting period: 84 days
Benefits
Get independent measurement of Meta campaigns
Understand the total, de-duplicated reach generated by campaigns on Meta and other channels 
Understand the incremental reach generated by Meta campaigns