How to add questions to your survey
How to add questions to your survey
The standard questions
The survey widget includes built-in standard questions focused on users' profile, user satisfaction, NPS and email collection.  You can deactivate most standard questions if they do not match your requirements and you may even add your own questions to the survey by clicking on the "Survey" section.
Please keep in mind that the standard survey takes only 1-2 minutes to complete.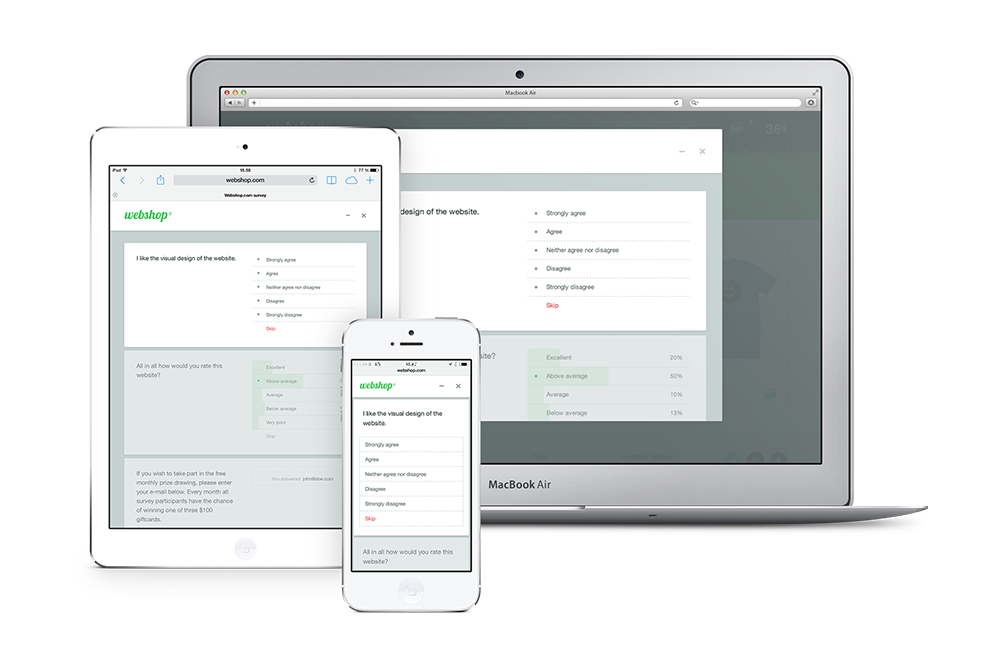 How to activate standard questions
UserReport comes with a set of standard questions built in its interface. When you add a new media to your UserReport account, you will need to fill in the information regarding your website or app. You will also be asked whether you want to activate the survey on your website and which standard questions you wish to ask your users. This means that after you have installed UserReport script on your website you'll be ready to run the survey.
The questions are divided into 4 question packages (profile, NPS, Satisfaction and Email collect) and you can choose the ones you to activate.
Please keep in mind that you can also skip this and make this choice later on.
In that case, select your website/app from the media section, click on the settings wheel and then select"Widgets". From there you will be able to automatically activate questions. This means that if you select for example the "satisfaction" package all the questions regarding satisfaction will be part of your survey.
If you instead want to have a look at the different questions and activate only some for each package, click on the "Survey" section and check this guide.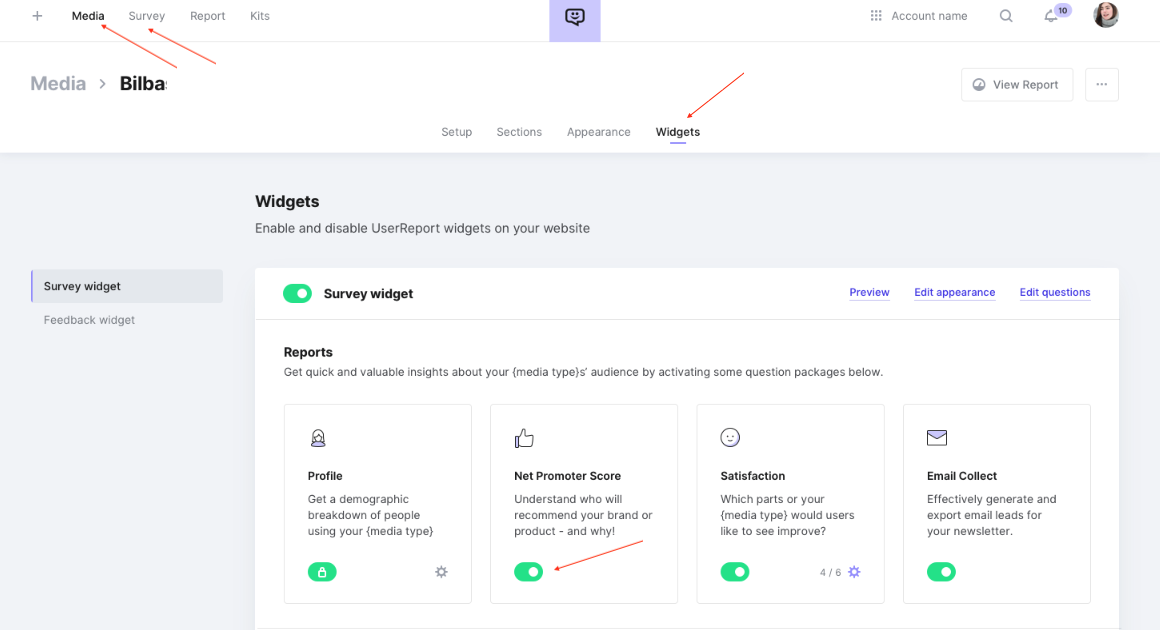 How to add a custom question to the survey
In UserReport interface, there are already some pre-built questions you can just use for your survey. 
That said, you can also add your own custom questions to the survey by going to the "Survey" section and clicking on "+ New". Just keep in mind that questions should always be short, clear and relevant to the visitors of your website.
Please keep in mind that if you have more than one website/app running the survey, in the "Survey" section you can also filter the right media and look at your questions' overview per every specific media. Select "Any media" and choose the specific website/app.

First, you will need to write your question, e.g.: Do you own a car?
Then you will choose the answer options and select the question category: are you asking your users their opinion or a personal question?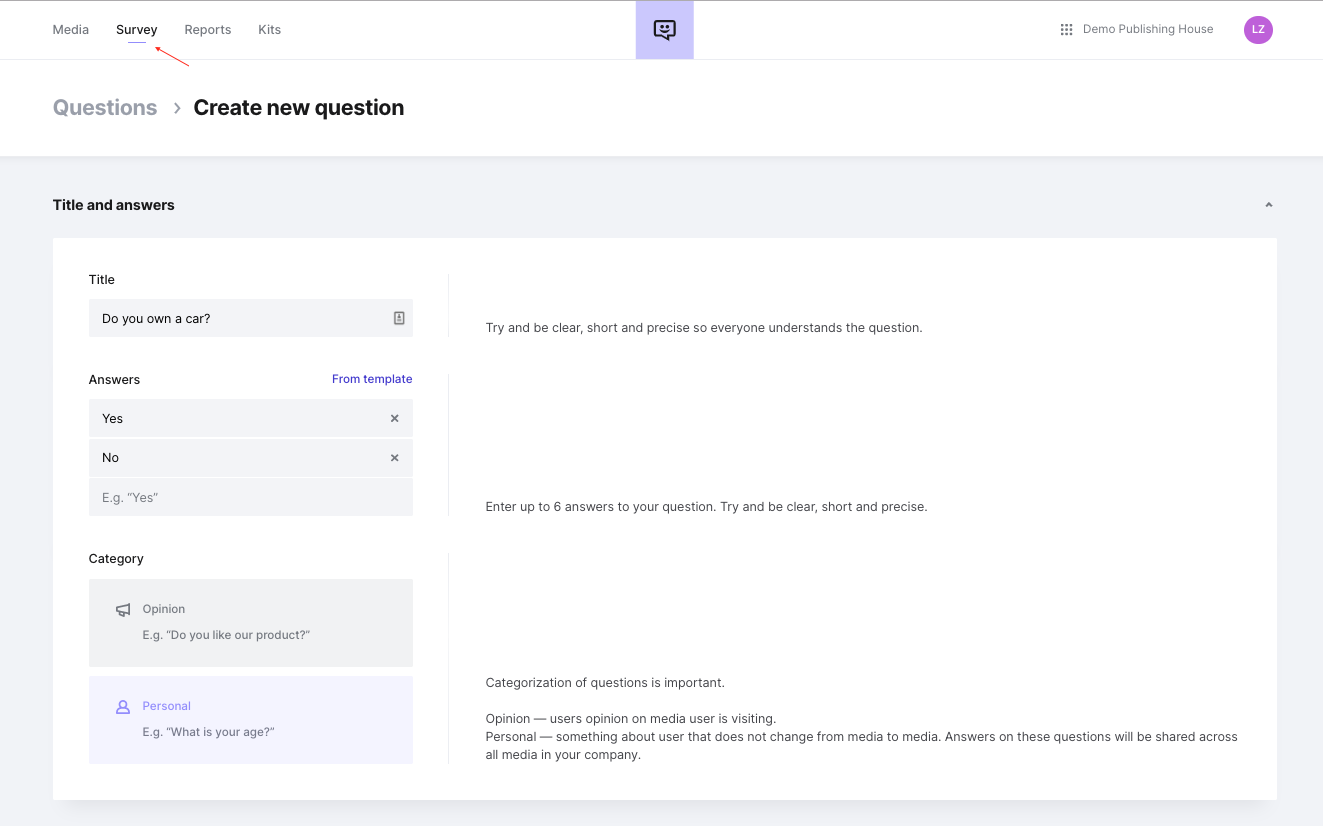 You then have some options to choose from. First, you can decide whether or not you want to show users the results once the questions have been answered. Here you will find a more detailed explanation regarding this. Or again you can chain the survey question to another question.
You can also decide whether or not you want to ask everyone that specific question. Please notice that by default, we ask randomized questions to each user, to make sure your survey never gets too long. However, if you feel that all users should answer this question, tick this box.
Finally, you may want to feature this question on one specific website or in multiple ones: in the "Show on media" section you will be able to set this up.
Finally, remember to click on "Create" or "Create + add another" if you wish to go on creating questions.