Updated by Corina Alonso
Integrating AdForm with your AudienceReport account is fast and easy. Start by logging into the AudienceReport account you will want to connect to. On the upper right corner, click on your initials and then click "Integrations". 
Before connecting the integration, please make sure the account you are using to create the integration in Adform has access to the advertisers and campaign you want to track.  You can check this by looking at the permission in the user management settings in Adform.
Once you are in the integrations section, click "+ Add integration" and choose "Adform Flow" on the list.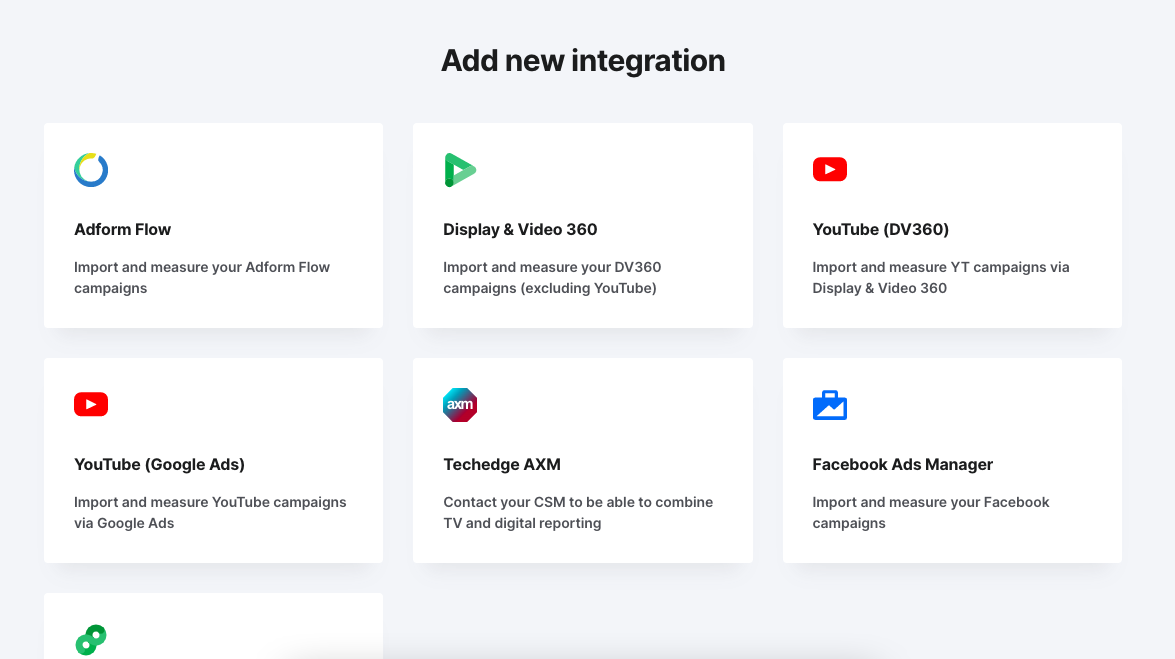 Next, you will be guided through the setup and the different steps and will have multiple options to customise your integration. You need to log into the Adform during the setup as well, so have your login information ready. 
Each step is outlined below:
Connect your Adform account to AudienceReport
Select which advertisers you would like to measure
Customise your Adform integration options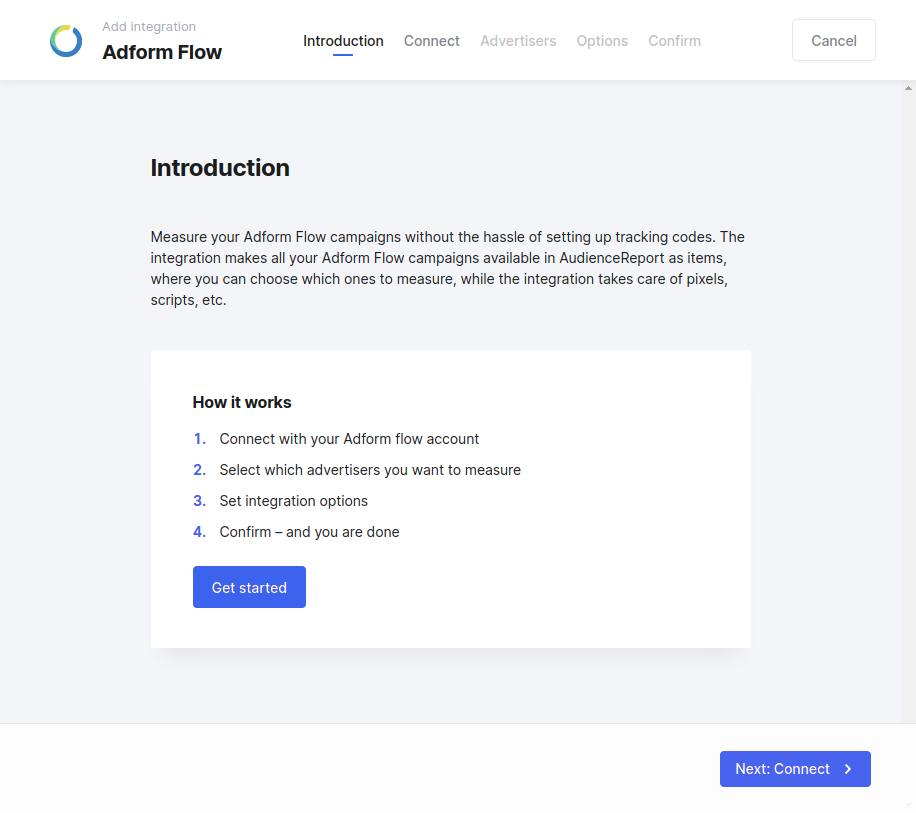 1. Connecting Adform with AudienceReport
The first step is to establish a connection between Adform and AudienceReport. Please be aware of the connection requirements, which will be displayed on your AudienceProject integration flow. Click on "connect to Adform", you will be redirected to Adform.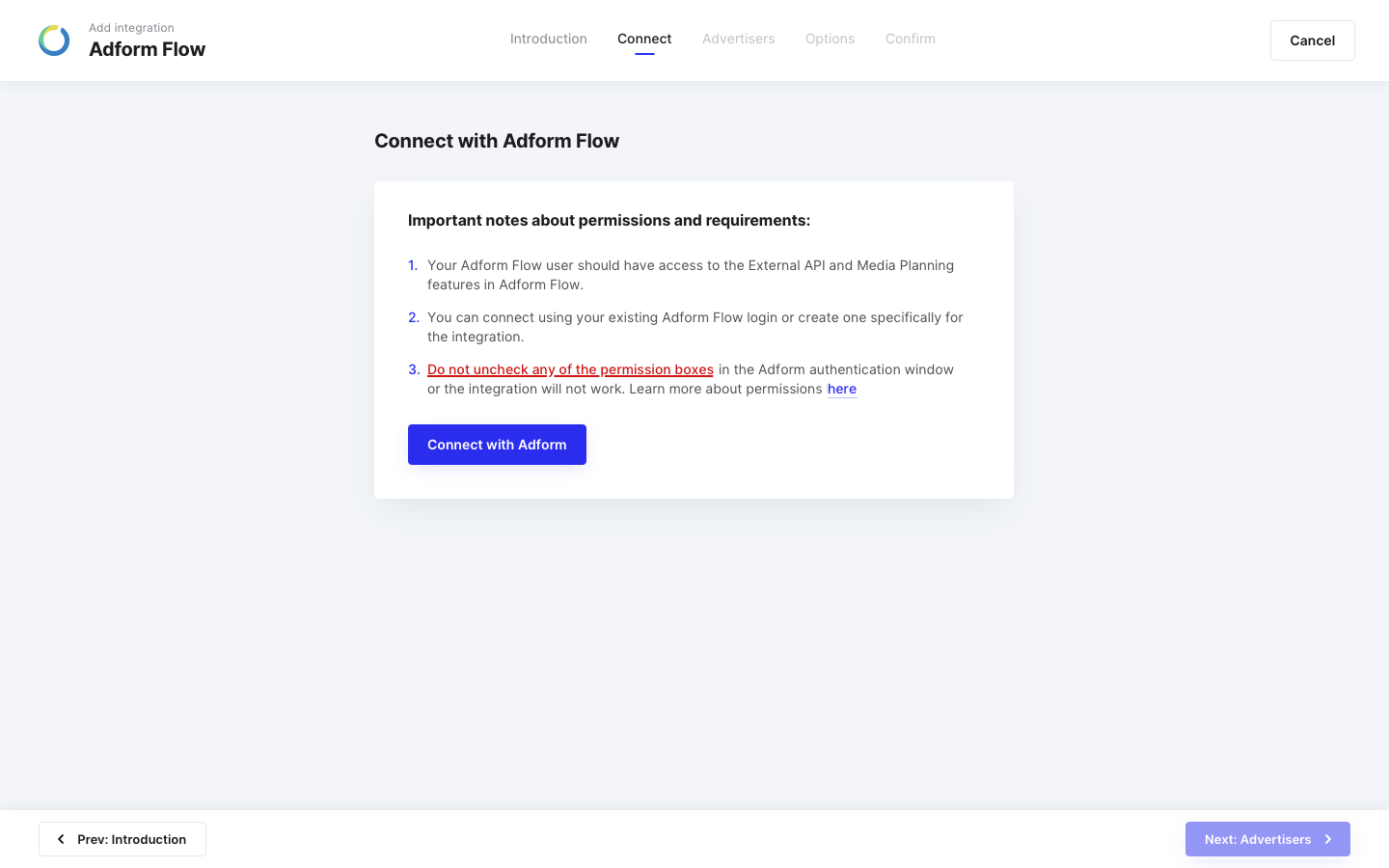 Log in with the account you wish to connect to AudienceReport. Then, select all the boxes displayed with "read-only" access, except from the ​​Unified tag API. Additionally, offline access is required as the integration works on a server-site, not only when the user is logged in.This access is needed in order to enable automatic tagging of campaigns, and automated campaign creation in AudienceReport. Lastly, click "allow" on the bottom of the list".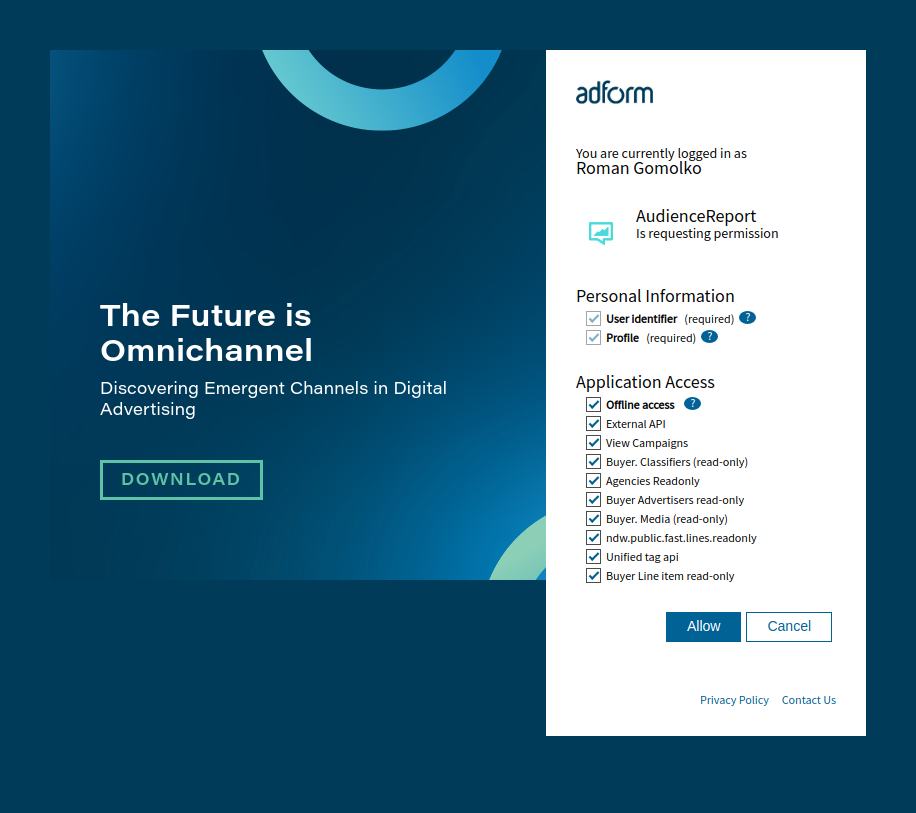 2. Configure the Integration settings
Confirm that you have connected the account to Adform correctly. Then, make sure to verify that you have connected the right accounts. It will look like this: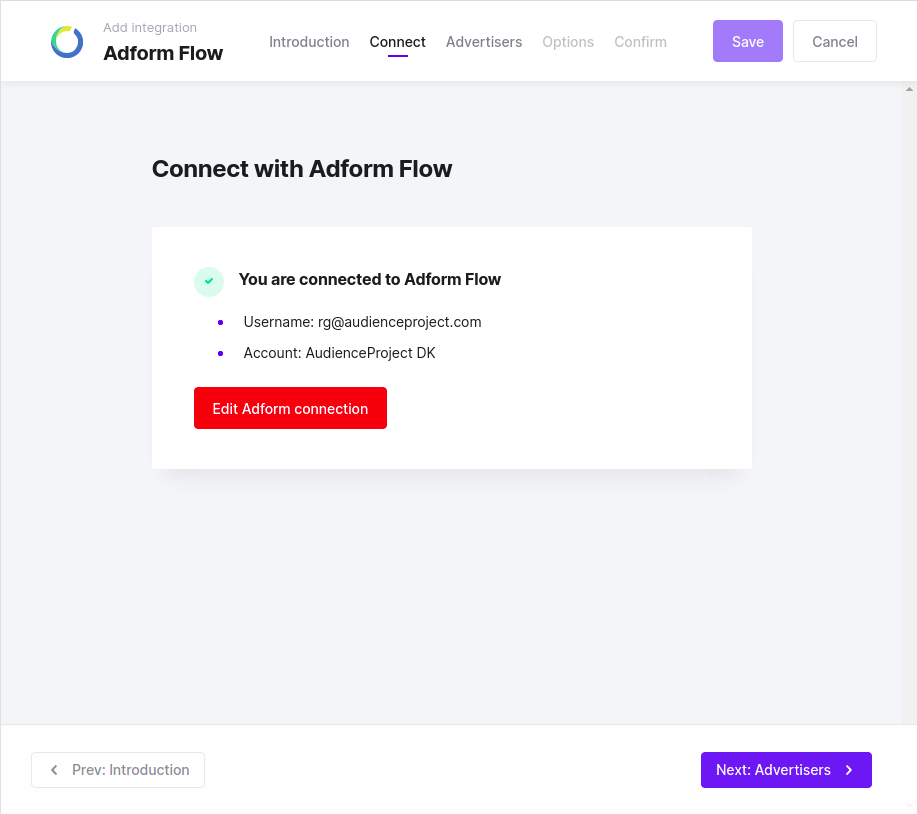 Next, select the advertisers you want the integration to apply for. You have the possibility to activate the integration for all your advertisers in Adform (Select 'All client') or only selected ones (select 'only selected'). If you only want to measure selected advertisers, please mark which advertisers should be included from the advertiser list.
After that, you need to map out (or match) the selected advertisers to AudienceReport client accounts. You can learn more about the types of accounts on AudienceReport here [LINK].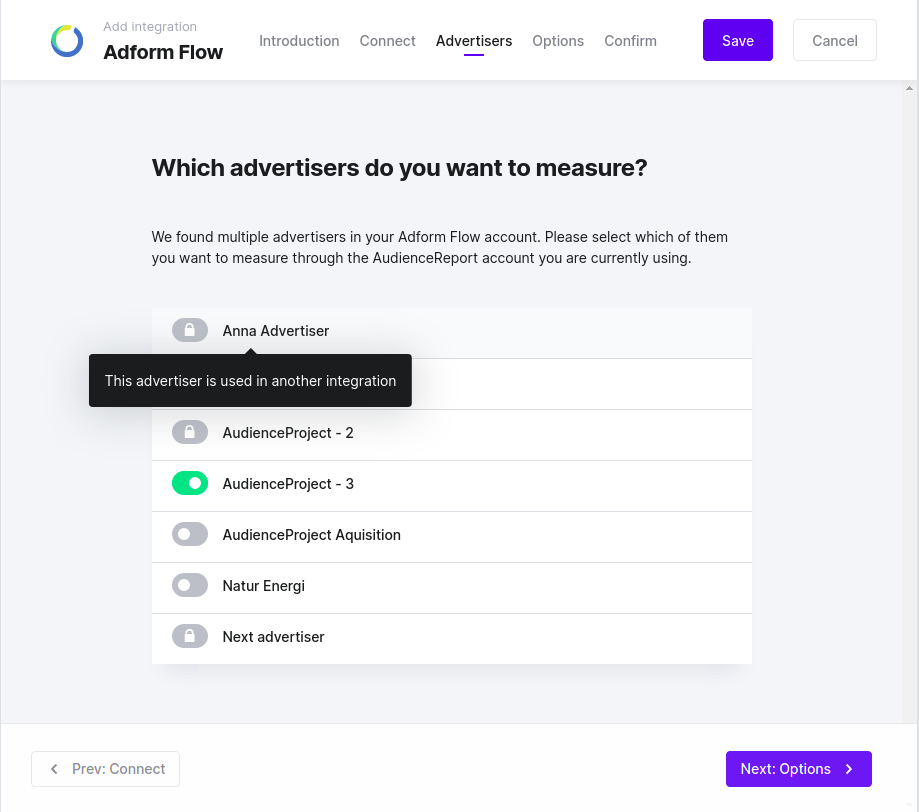 3. Define the tracking details for the integration. 
The tracking setup consists of two blocks:
Enabling video funnel measurement
Dealing with direct insertion orders
The dialogue on the screen will show you the different options that you have when configuring these two blocks.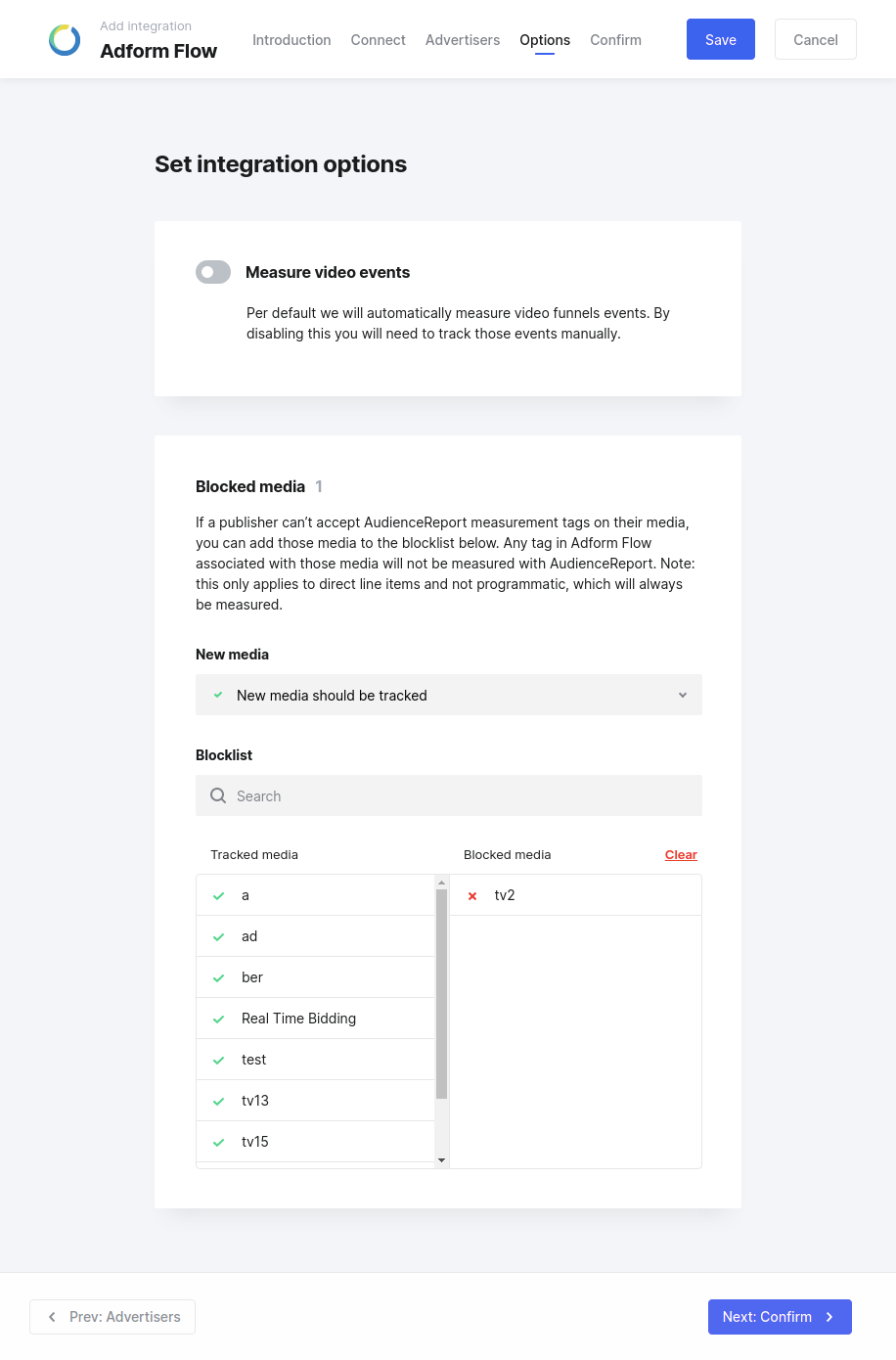 For example, you have the option to configure the following:
 Automatic measurement of viewability for your display campaigns. 
Automatic measurement of video quartiles for your campaigns ('video funnel events'). 
Black-list specific media from being tagged across all campaigns, in case there are any specific media you don't want to include for measurement.
You can decide if you want to measure video events. AudienceReport will automatically measure such video events, so if you decide to disable this option, you would need to track video events manually.
The next step is to indicate if there are any blocked media.  If a publisher can't accept AudienceReport measurement tags on their media, you can add those media to the blocklist below. Any tag in Adform Flow associated with those media will not be measured with AudienceReport.
This only applies to direct line items. Programmatic items will always be measured.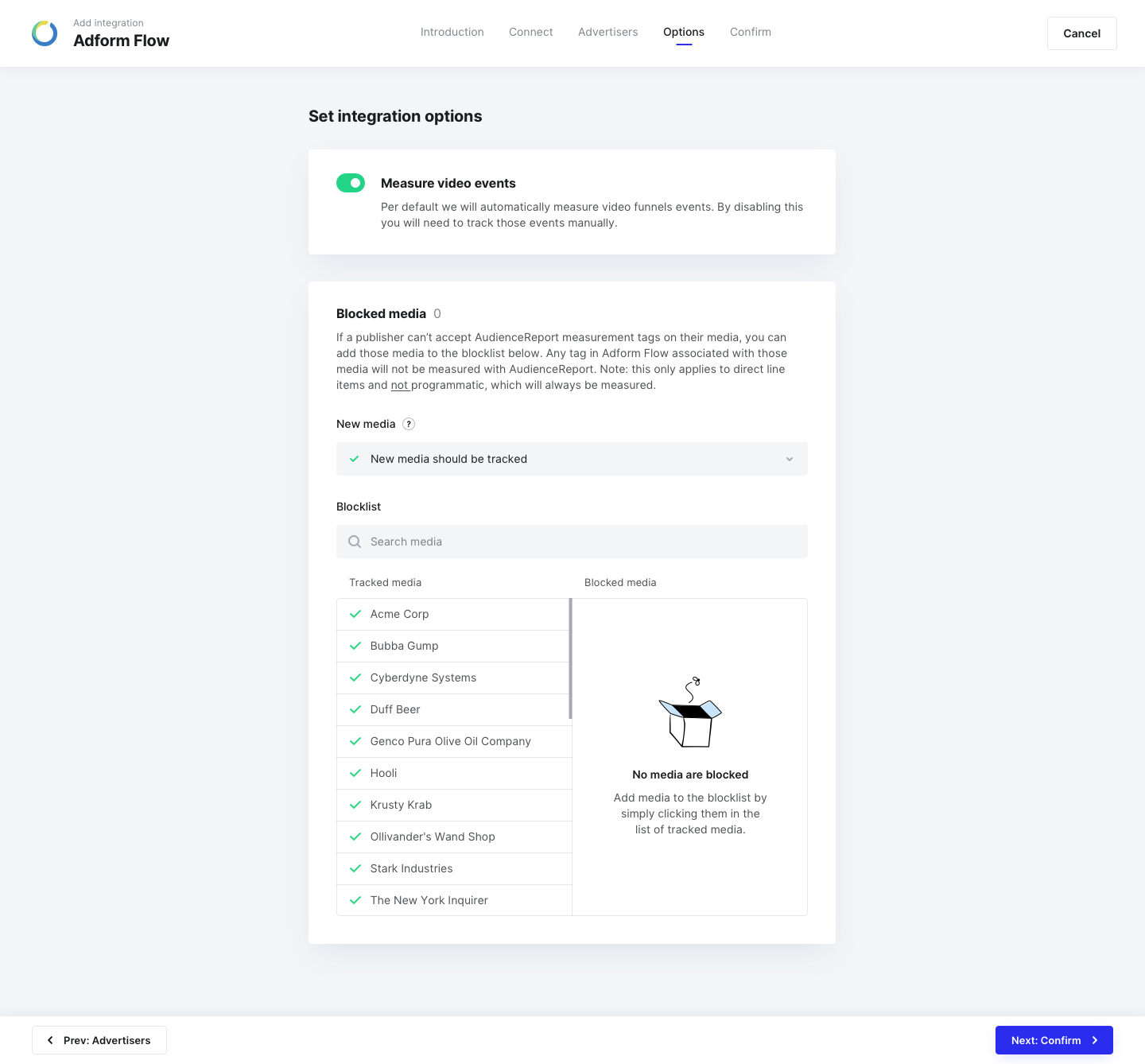 Once you are done selecting the blocked media, click on "confirm" on the lower-right part of your screen. You will be redirected to a final overview of your integration settings. Read them carefully and then click "enable integration" on the middle lower part of your screen. Then, click on "done" and you are ready to measure your campaigns with Adform on AudienceReport.
Once you have selected and reviewed your preferred settings, click on "enable integration" at the bottom of the page.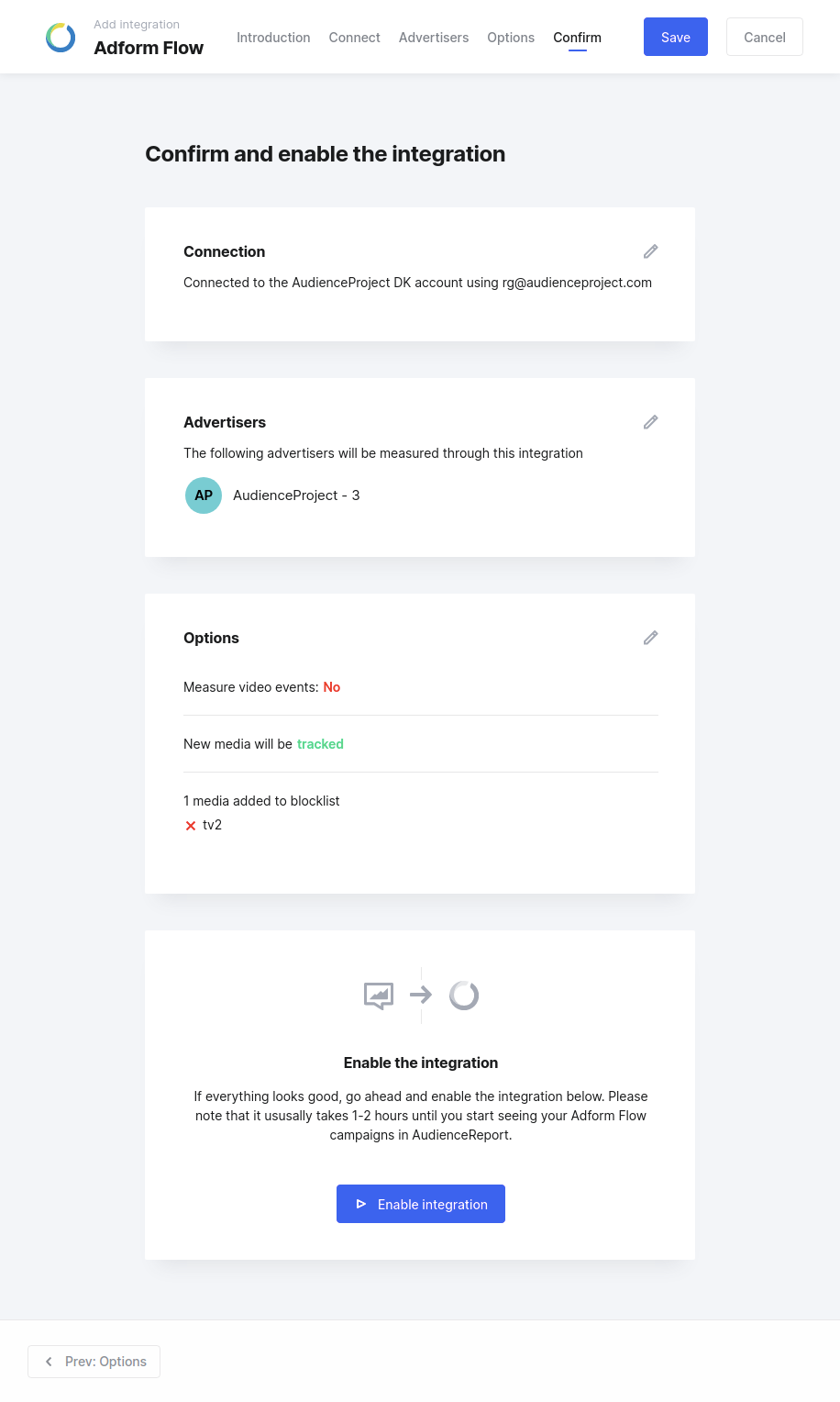 All active and future campaigns will now be tagged and start to appear as items in your AudienceReport account. If you at any point want to edit or deactivate your Adform integration, this is possible from the account settings page in AudienceReport in the tab 'integrations'
If you have questions or need help in regards to anything please feel free to reach out to us support@audiencereport.com.