Report recalculation time
Report recalculation time
Updated by Corina Alonso
In AudienceReport, when you make changes to your report it will recalculate based on the new parameters. For example, if you change the target audience, or the items, the report will be updated to show the desired data. 
Anything you change in the report will trigger a recalculation, except cosmetic details like the report's name, item labels and external reference IDs. These elements that DON'T trigger a recalculation are in the setup tab.
The recalculation of the report can take between a couple of minutes and a day, depending on the amount of data of your report, the campaign timeframe and many other factors - like the total load of calculating all reports on the system. In general, the report's data is fetched once a day, every day. 
This means that channels are updated gradually during the day, so one channel may be showing updated numbers, while another channel is still calculating. You can see when a report is expected to be fully updated in the report freshness box (see below).
You can see how fresh the report is, on the top right corner. Now you can see:
When the results were last calculated and what data was included.
How much time is left before the next update.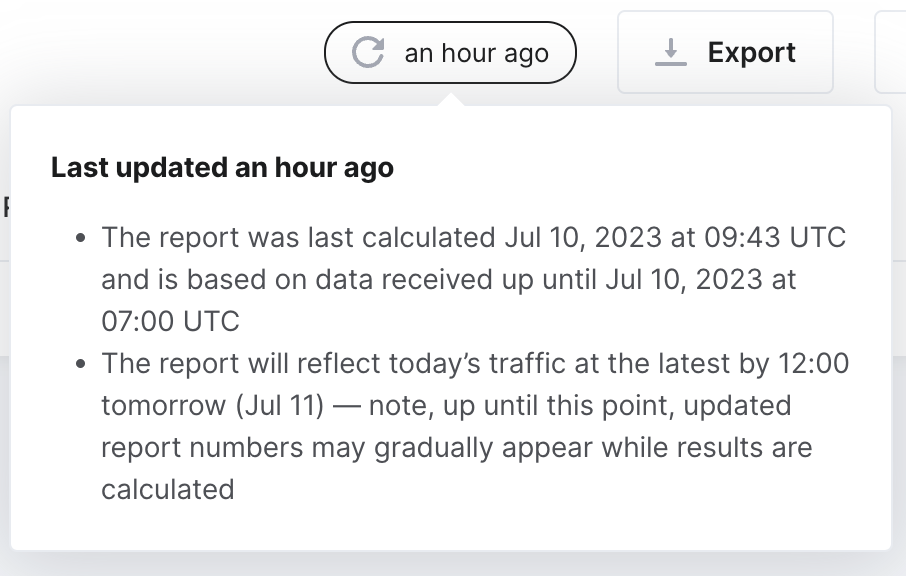 Please note that campaign data will be shown gradually, while the report results are calculated once a day. Therefore we encourage you to check your campaign's results and report freshness to see the updates.
When the end of the reporting period has been reached, the reports will stop being recalculated. 
If your report does not get recalculated, there might be one of the following errors:
Fail to fetch data from the campaign items
Fail to integrate to YouTube and Meta
Fail to integrate with the ad server
Mistakes in pixel implementation
You can learn more about integrating AudienceReport to YouTube, Meta and your ad server through these links. Also, check how to implement pixels in AudienceReport here, to identify if there was an implementation mistake.
If you are still experiencing problems with your report recalculation, please reach out to your Customer Success Manager (CSM) directly or contact us at support@audienceproject.com.