How to export your report
How to export your report
Updated by Mathias Freudendahl
Watch the Tutorial Video - How to export a report here.
If you want to export your campaign report, go to the Reports section and select the report you want to export. Once you see the report dashboard, click on "export", in the top right corner.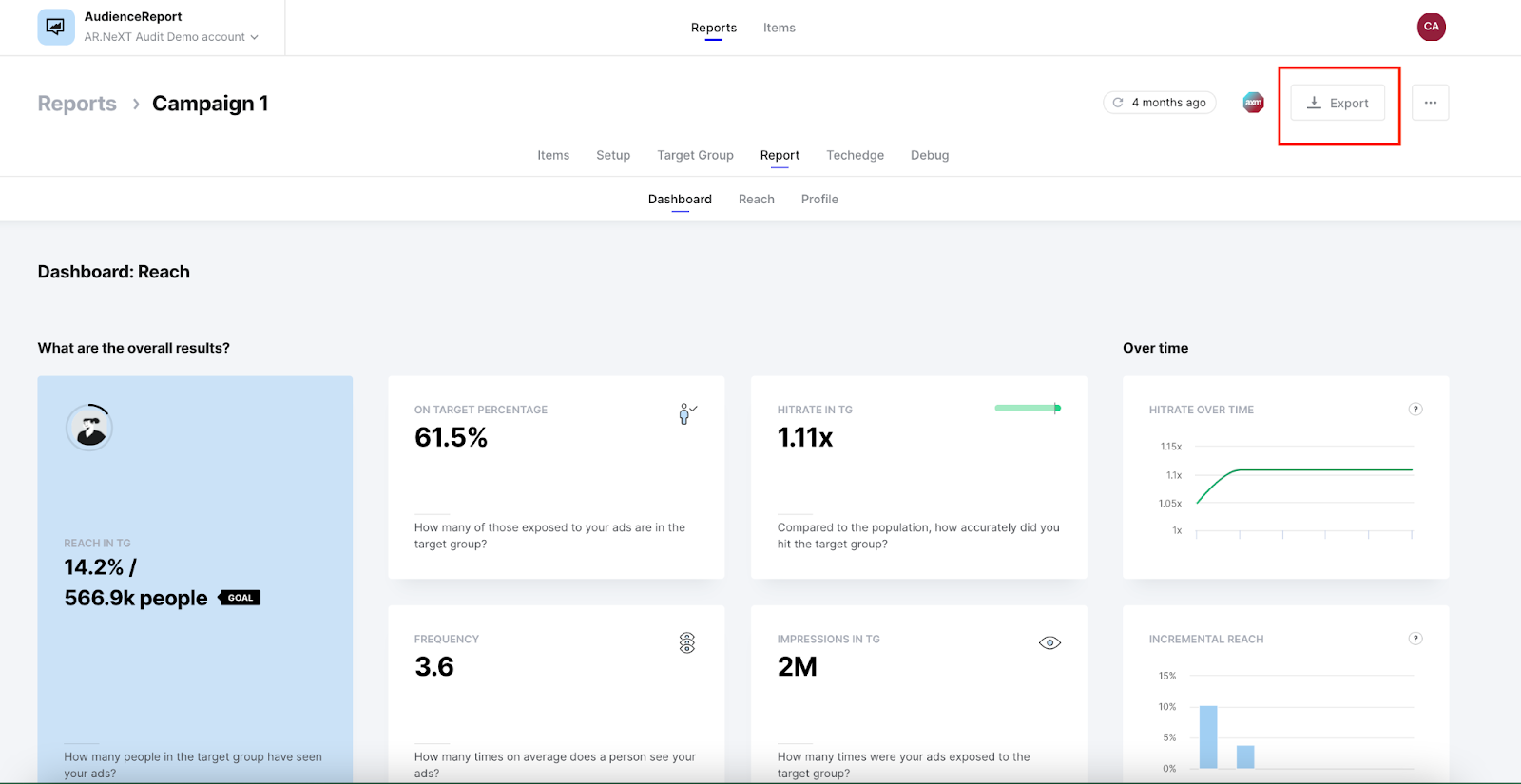 You now have the option to customize your export, to add the look and feel that fits you or your client. 
Report Name
You can customize the report's name depending on your customer or campaign name. Just click on the field "name".
Included Reports 
You can select which parts of your report you want to include in your export. This is done from the 'Included reports' section. 
Your report has the following sections:
Dashboard
Reach
Profile
Funnel
For each section in the report, you can customize what to include in the export you are creating for instance, you or your client are only interested in seeing the overall performance and the weekly incremental reach in target group from the dashboard tab. In that case, simply deselect the sections you don't want to include in the report, by clicking on the checkboxes. You can select as many items as desired from all the report's sections.
Report sub-sections can be added automatically, by clicking on the right side on the "turn on button" of the specific report section.
Including sub-items will increase the report granularity. But use with caution as it can result a large number of slides.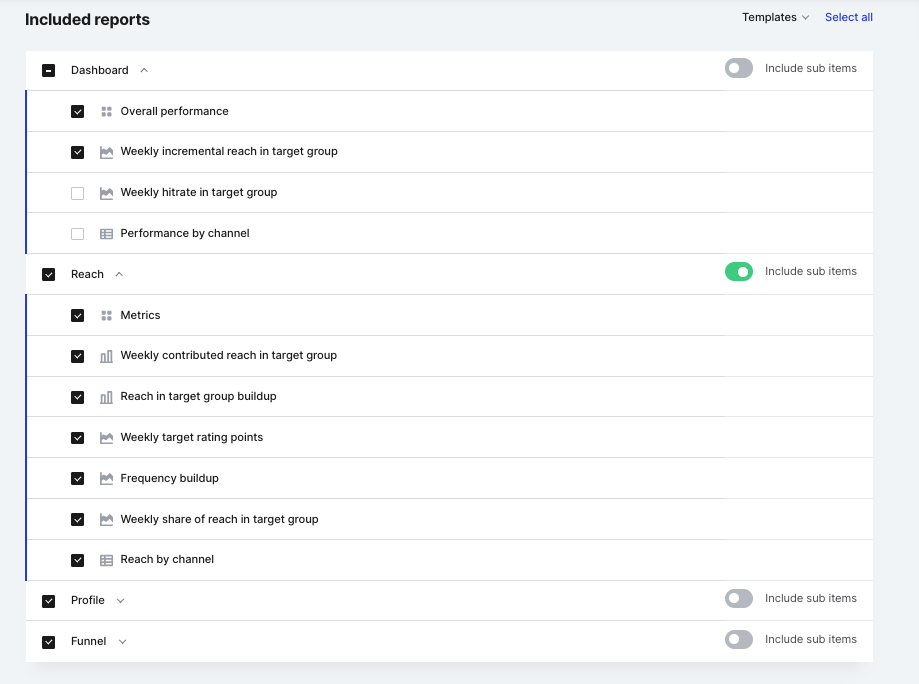 Report Templates 
On the right side of the "included report" section, you can select between templates or create your own.
The template section will help you:
Having standardized reports
Select your favourite combinations of report parts you want to use across reports
Creating future reports
There you can save the selection of content you have just chosen as a template. Saving it as a template means you can easily use the same combination of report sections at a later point, or on one of your other reports. 
From the templates dropdown, you can select existing templates, delete templates or edit templates that might need a change or a final touch. 
Note that changes and deletion of templates will apply to the entire account. That means that if you change a template, that template will also be changed for any other user working on the account.  
PDF / Powerpoint setup
If you scroll further down, you continue to the PDF setup.
Here you can edit the look and feel of your export. First, select which slide elements you want to include. If you want to have a page index, a front page, page numbers, etc., simply select the slide options you want to apply to your export. Select the 'Show short numbers' option to see rounded numbers, like 12.6M. Or unselect this option to see full numbers, like 12 656 786.

Themes 
Lastly, set a theme for your export. Setting a theme will allow you to customize primary colours, font type and front page image. You can also upload your company logo or potentially your client's logo, which will be included on the front page of your export.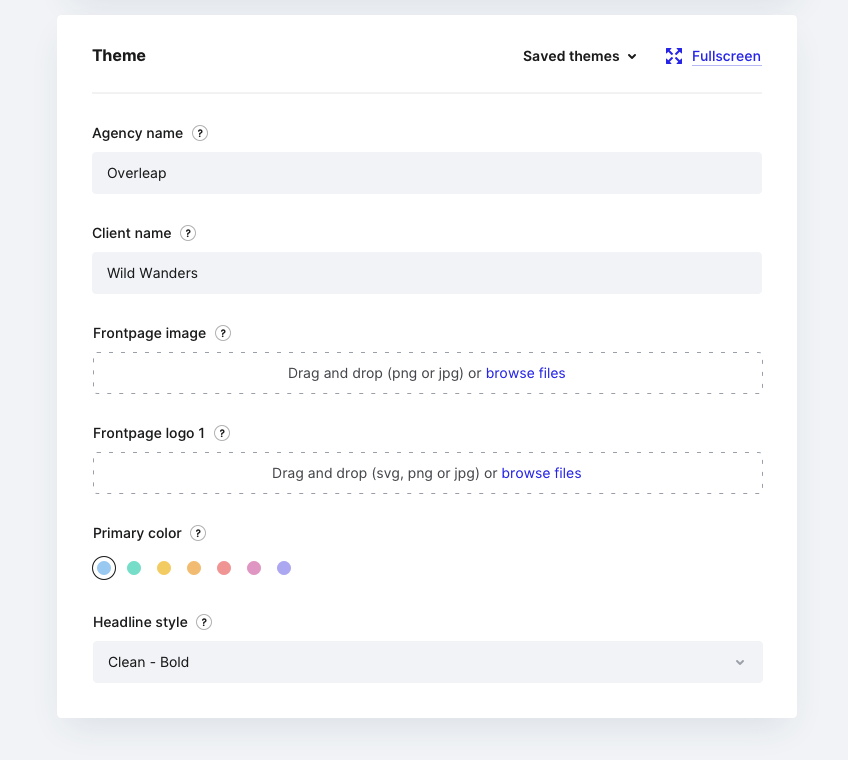 If you want to go pro, you can edit the theme in fullscreen mode, by clicking on 'fullscreen' in the corner of the theme box. Editing in fullscreen mode will also allow you to preview your export and see how your design and report selections are working out.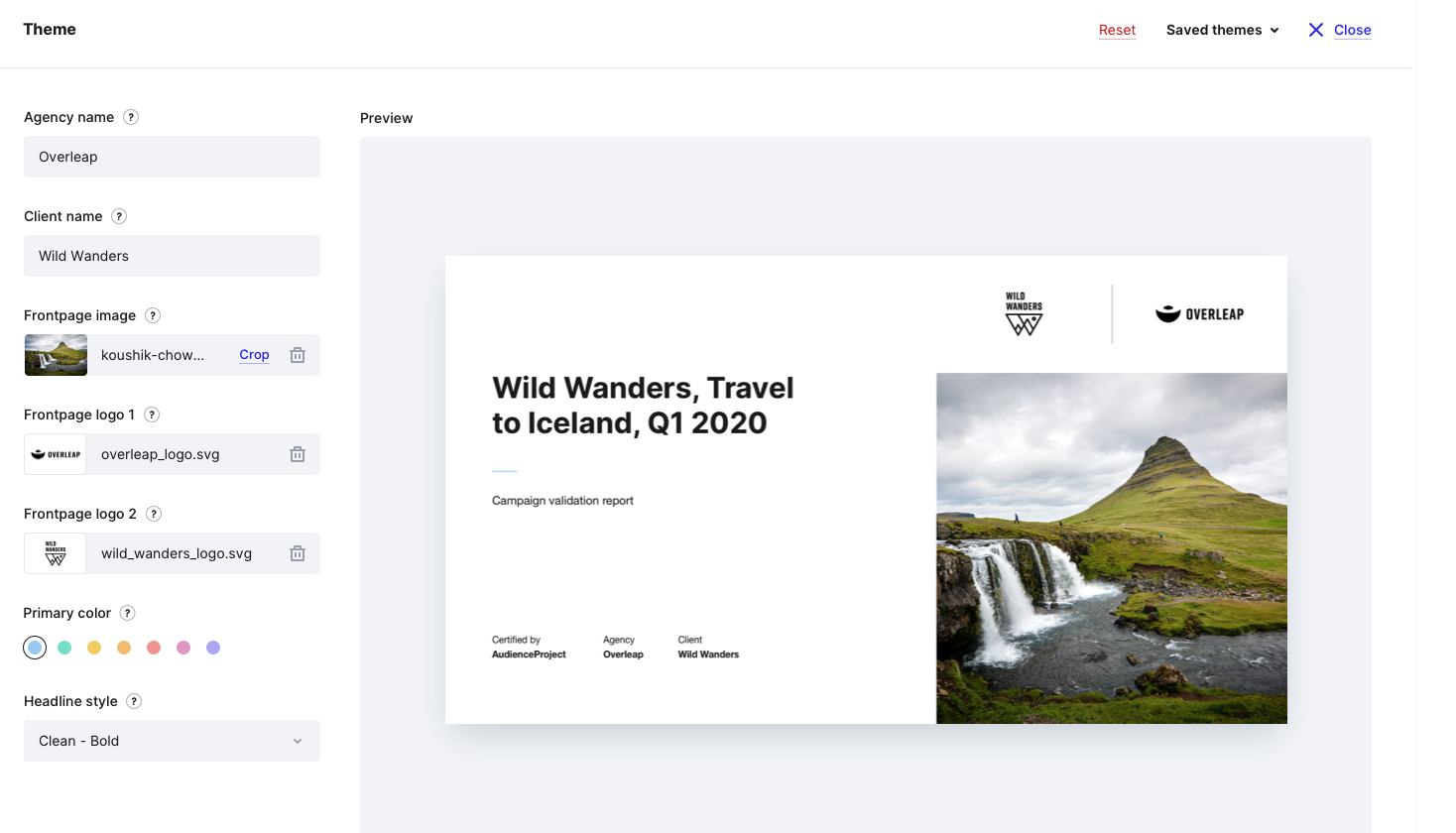 In the same way as for 'Included reports', you can save, import and edit themes for your export. This means that you can set up a theme that fits your brand or client, that can be reused on all exports for this brand or client. You can find the existing themes, save the one you have created and edit existing ones from the dropdown 'saved themes'. 
Once you are done setting up your report, click on the upper right corner, select "save and close". 
Ready to export? 
When you are ready to export your report, select the format of your export on the upper right side. You can choose between exporting your report as:
Excel file
PDF file
Powerpoint file
Your report will be directly generated. Please note that the export and download can take some minutes depending on the amount of data.
Before moving on to other existing reports, you can choose if you want to close the export page without saving the settings you have just selected, or if you want to save the settings for the specific report for a later point.

If you have questions concerning exports, or want some input on how to make your exports look awesome, feel free to reach out to us at support@audiencereport.com