Integrate with Facebook/Meta
Integrate with Facebook/Meta
Updated by Corina Alonso
AudienceReport can measure your Facebook ads with a direct integration into Meta's ecosystem. To set this up, start by logging into the AudienceReport account you will want to connect to. On the upper right corner, Now click on "Integrations". Now scroll until you see the Facebook integration logo, then select it.
When you use the Meta integration, you can add multiple Facebook accounts to AudienceReport. Press "add account" and choose "manually add account by ID".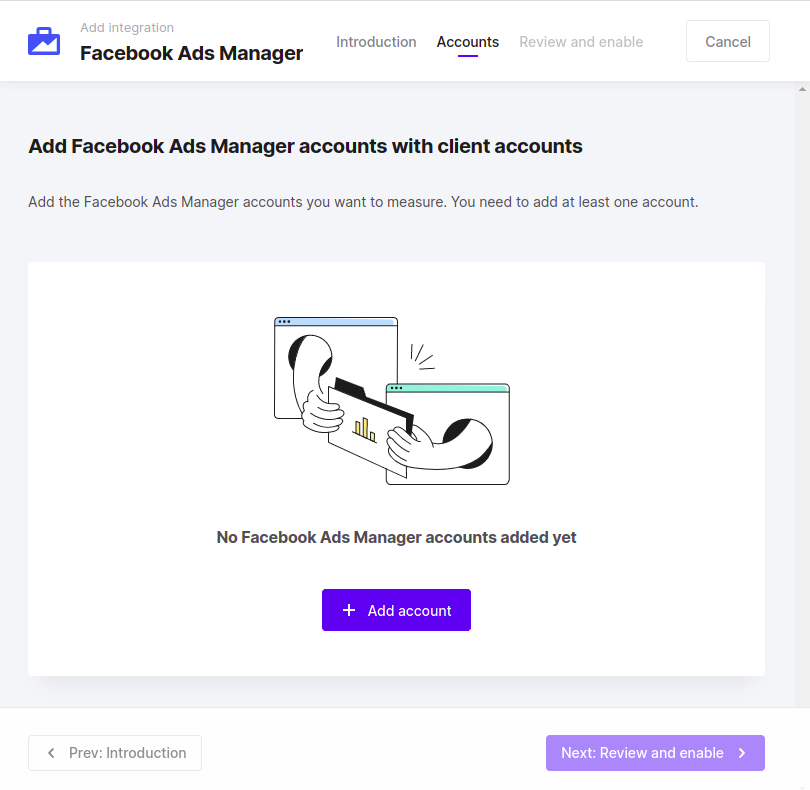 Now, you need to assign AudienceProject as a partner on Facebook Ads Manager. 
Go to your Facebook Ads Manager and select "ad account" or "assign partner". Insert the AudienceProject partner ID (215766512125595).
Then, get your Facebook Ads Manager ID and insert it into the AudienceProject overview. After that, select from the dropdown list, which accounts you want to link to your Facebook Ads Manager. Make sure to select the client account and country for each case. When you are done, click on "add connected account" to continue the integration setup. If you need to measure your Facebook campaigns in several countries, then you need to connect different Facebook accounts. Consequently, you will need to create multiple integrations for each country.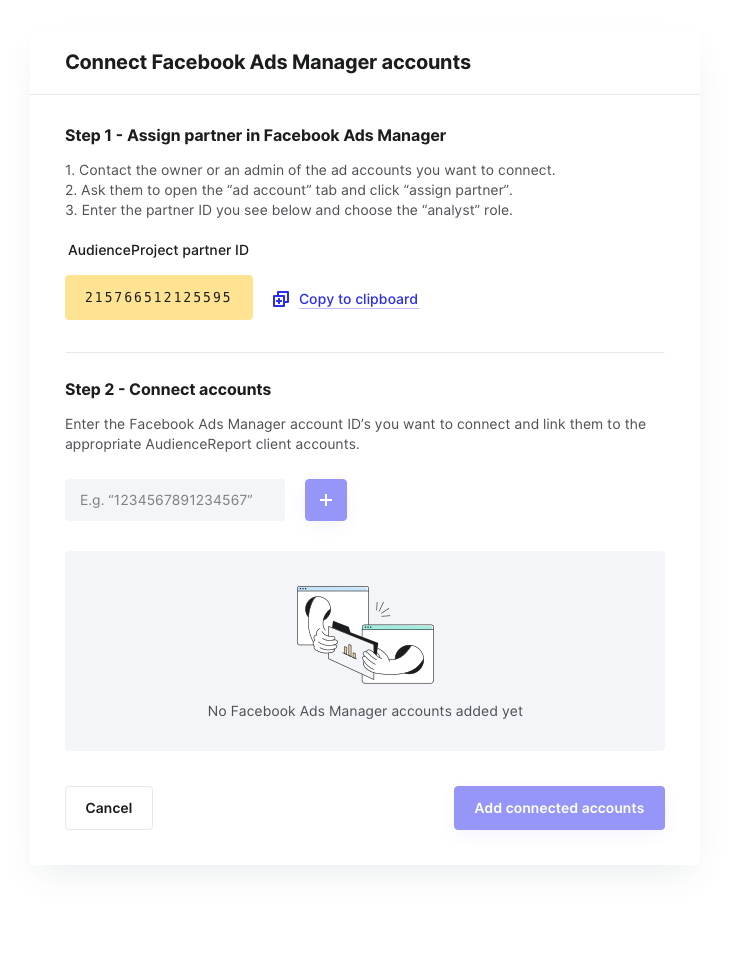 Then, you need to select the account(s) you want to share in Facebook Business manager and press "Assign partner" button. In the appeared dialog, choose by Business ID and on the next screen enter:
Business ID: 215766512125595
Access: View Performance
Then confirm by pressing "Next".Before returning to AudienceReport, you need to copy ID of Ad account they want to link.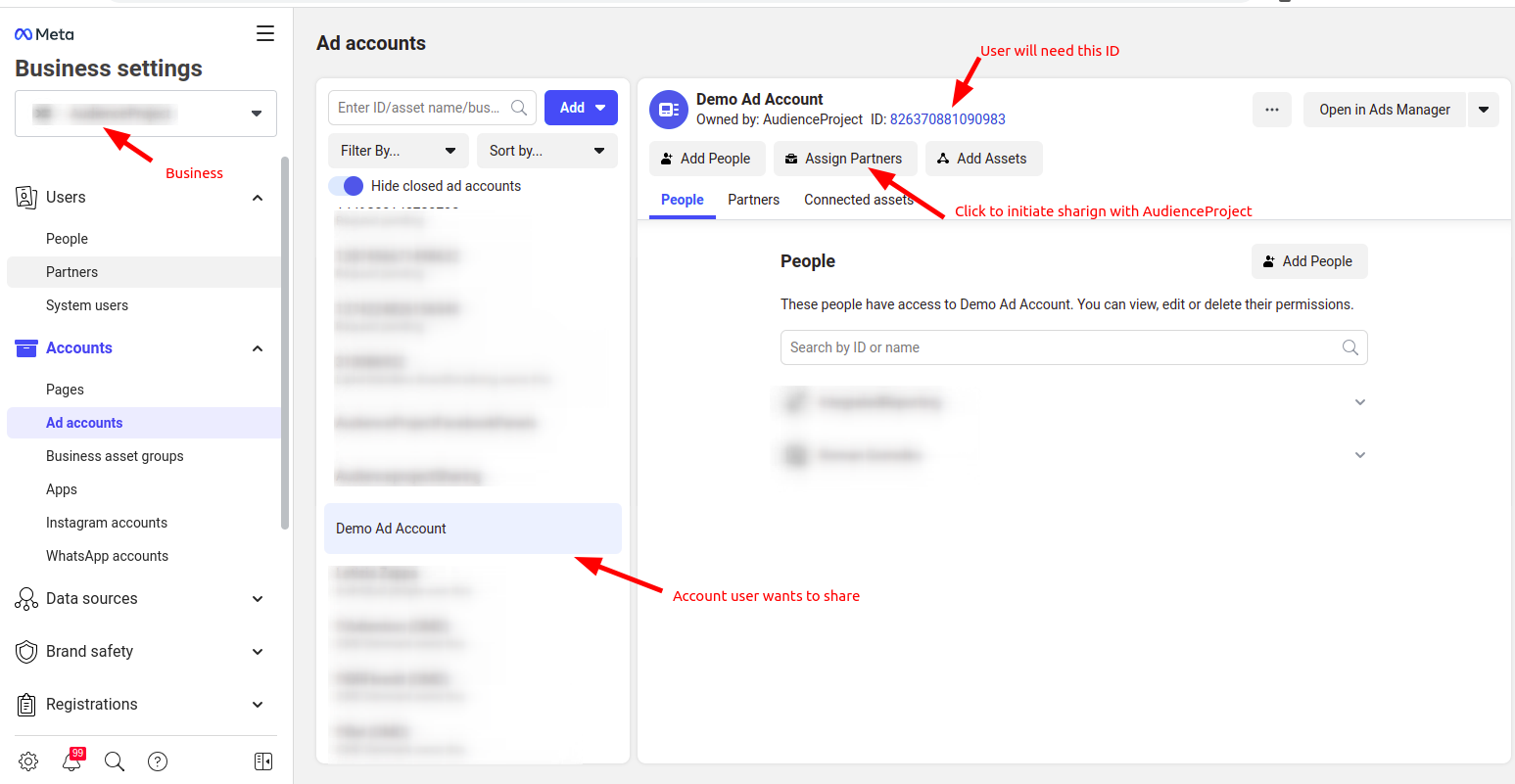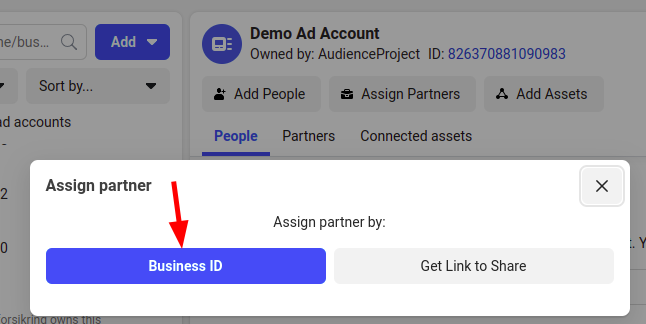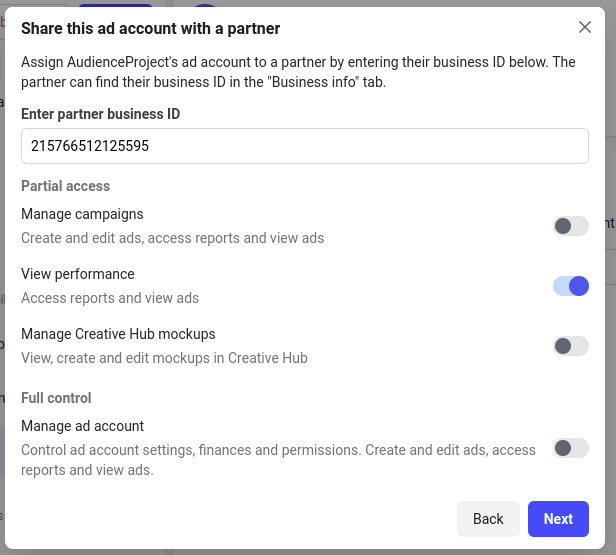 Afterwards, you will see an overview of the accounts to be connected to your Facebook Ads Manager. 
Now, you need to enter the ad account IDs and press the "+" button in the AudienceReport interface. AudienceReport will accept the connection and validate if the links are indeed established. After this programmatic check takes place, the status will be reflected in the "Connected" column. Make sure that the information is correct and check the status of the connection.
The validation done by AudienceProject does not involve checking your personal user permissions. 
To refresh status after connection is established, there is the "Re-check connection" button that will refresh the status.
After the integration has been activated for a specific ad account, it can take up to 5 business days before data is fetched into AudienceReport.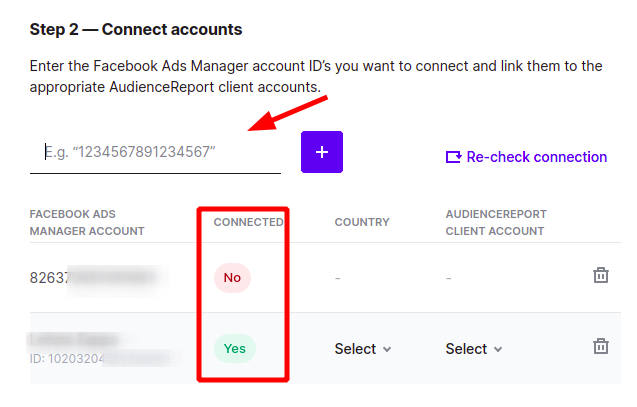 If the connection is broken, make sure that AudienceProject can access your Facebook Ads Manager campaigns. Once you check all the details, click on "confirm" in the lower right corner.
Afterwards, select a country and a client from the drop down list (on the right side of the connected account), to finish the set up.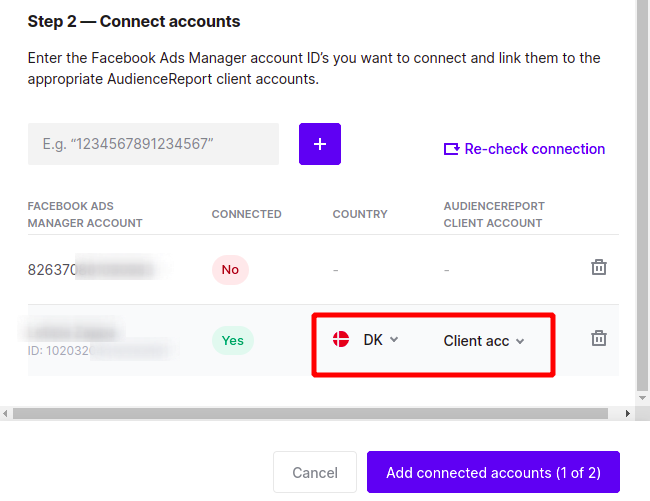 Finally, click on "enable integration" at the bottom of the screen and then await Facebook accepting the request.
If you want to learn more about how this integration works, please go to What is the Meta integration?