Integrate with Google Ads for Youtube measurement
Integrate with Google Ads for Youtube measurement
Updated by Corina Alonso
AudienceReport Next integration with Google Ads allows you to measure Google Ads campaigns with ease. The integration makes all your Google Ads insertion orders available in AudienceReport as items, where you can choose which ones to measure. 
The integration with Google Ads to AudienceReport account is fast and easy to set up. On AudienceReport, navigate to the upper right corner of the screen. Click on your profile and select "integrations" from the drop-down menu. Once you are in the integrations section, scroll down until you see Google Ads (YouTube) click "activate" and follow the instructions. You will be guided through the setup and will have multiple options to customise your integration. 
Create the integration with Google Ads on AudienceReport
Allow access to AudienceReport on Google Ads
Integrating to Google Ads in AudienceReport
Start by logging into the AudienceReport account you want to connect to. In the upper right corner, click on your initials". Now click on "Integrations" on the menu bar. 

Select the Youtube (Google Ads) box. Click on "add integration", on the right corner to start the process.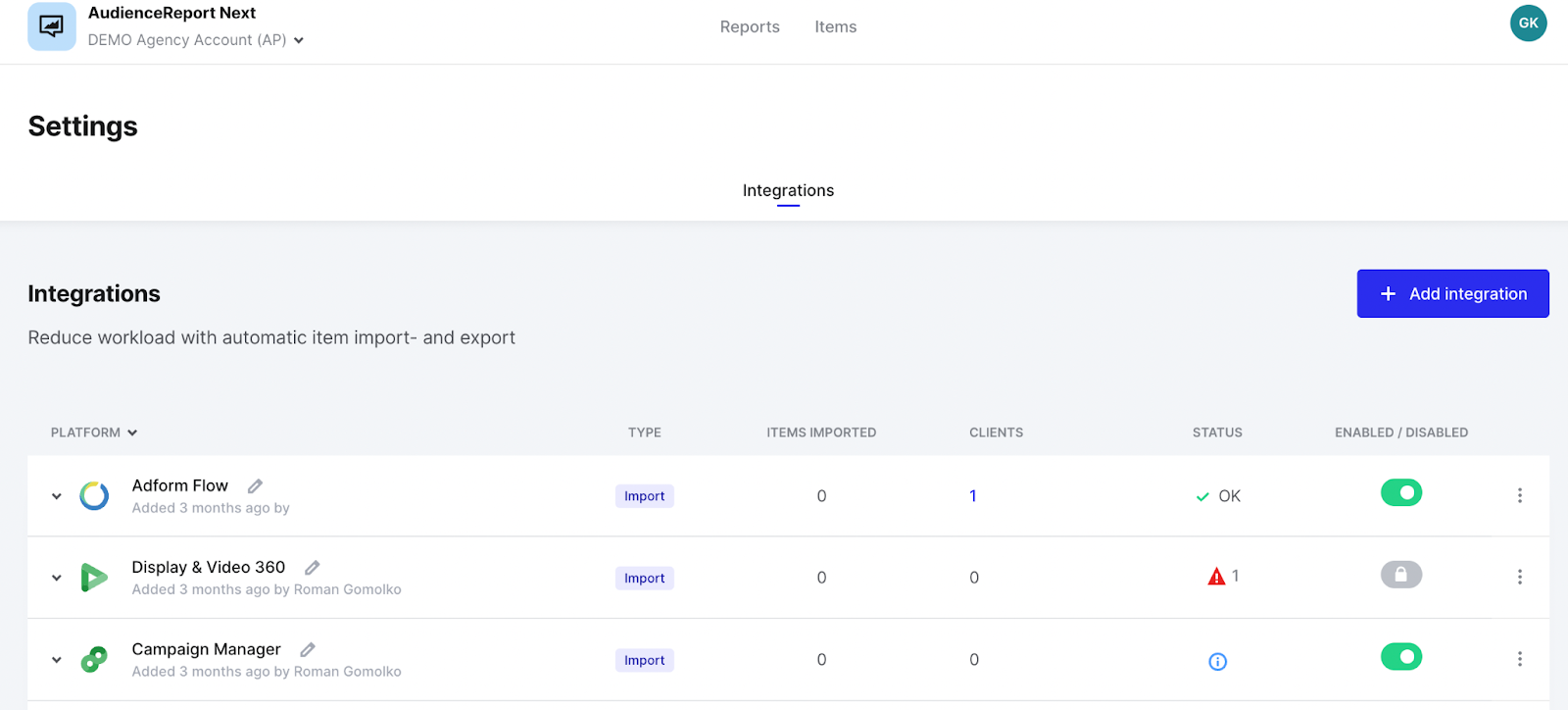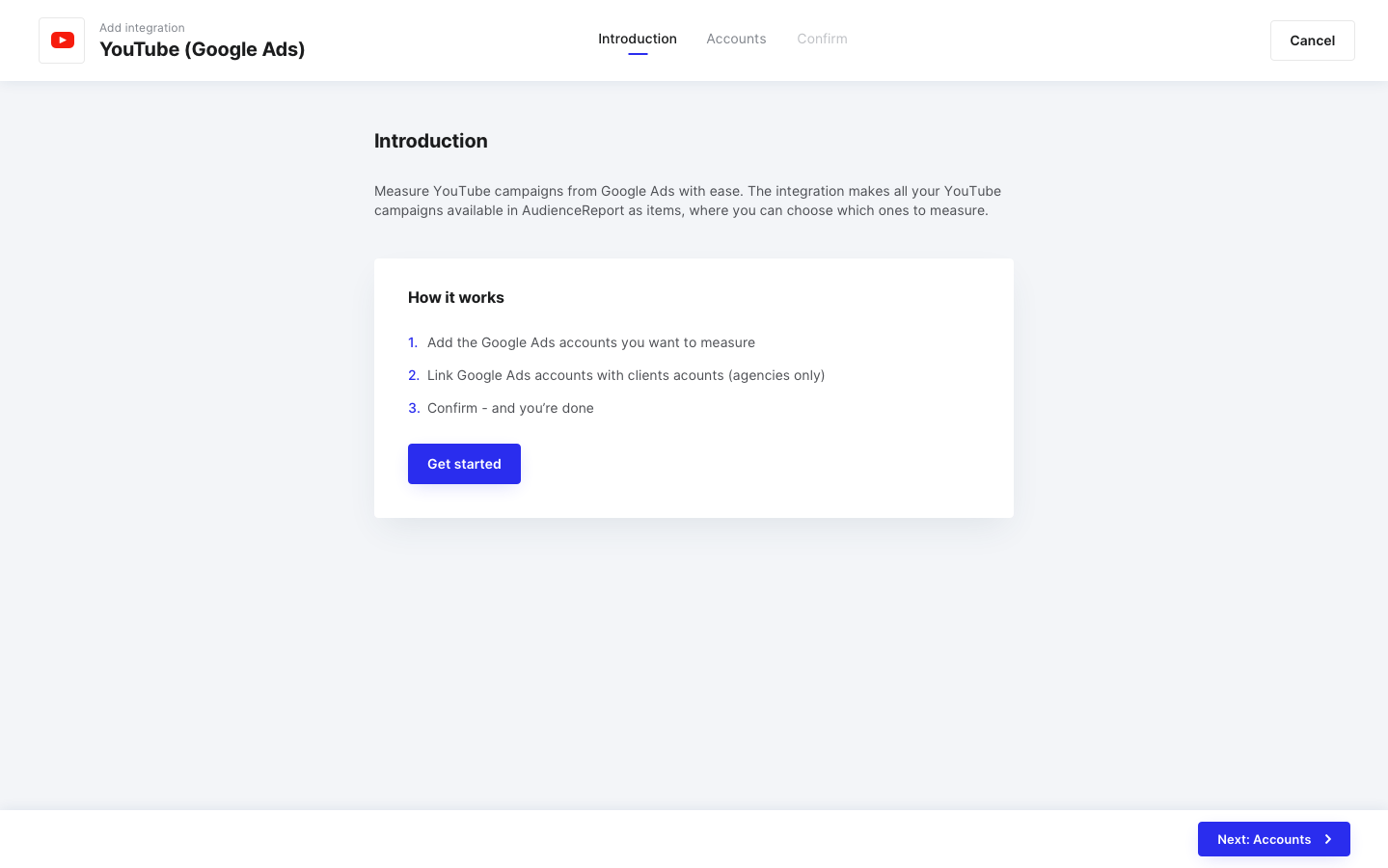 When connecting AudienceReport to your Google Ads, you should add the accounts you want to measure with the appropriate clients. For this, click on "add accounts" and insert the Google Ads account ID of the client you want to measure. You can find this ID on your Data Hub Account links overview.
Note that once you have added your Google Ads account ID to AudienceReport, a linkage request will be sent to you in Google Ads.This is done by our customer support team, therefore it might take a while before you receive it. At the same time the linkage will be accepted from AudienceReport's side by our Customer Support team. We expect this to be done within approximately one hour. Remember that the linkage request must be accepted before the integration will be activated.
Once you have done this, you need to link the accounts you want to measure to your clients. On the overview, select the "AudienceReport client accounts" from the dropdown list. 
You can also check the status of the linkage under "status". There are 3 possible possibilities: 
1) either the accounts are correctly connected
2) an action needs to be taken, or
3) the connection is broken.
If there is an action pending from your side, revisit the connection from your Google Ads to ADH, as well as the permissions for AudienceProject to your Google account. Also remember that you should have accepted the incoming connection request from AudienceProject in your GoogleAds account (it can take up to 1 hour for the request to appear).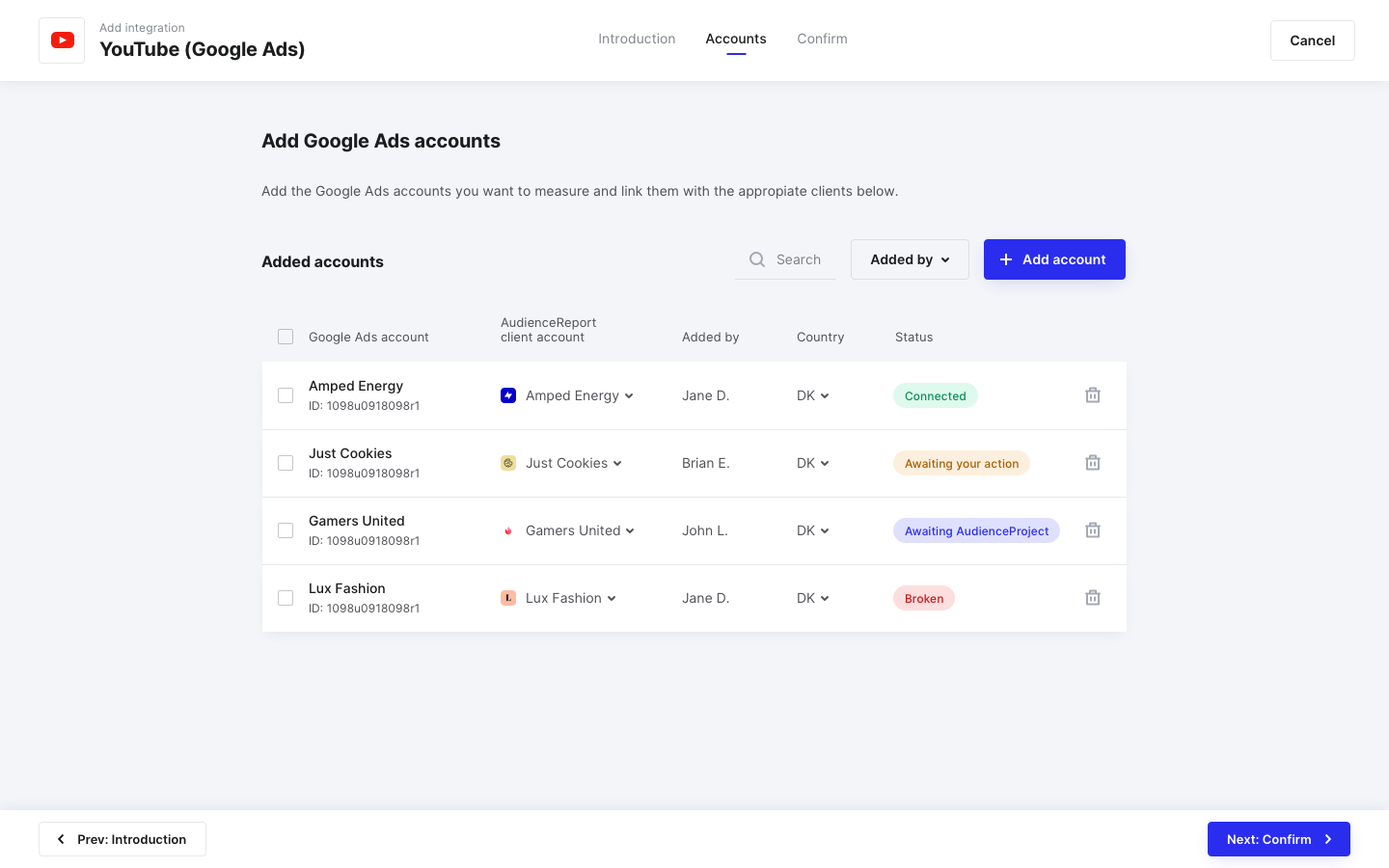 If the status of your connection is broken, make sure that AudienceProject has the required access to your Google account. Otherwise, you can always reach out to our support team through support@audienceproject.com.
Finally, confirm your selection of accounts and clients and finish the integration process.